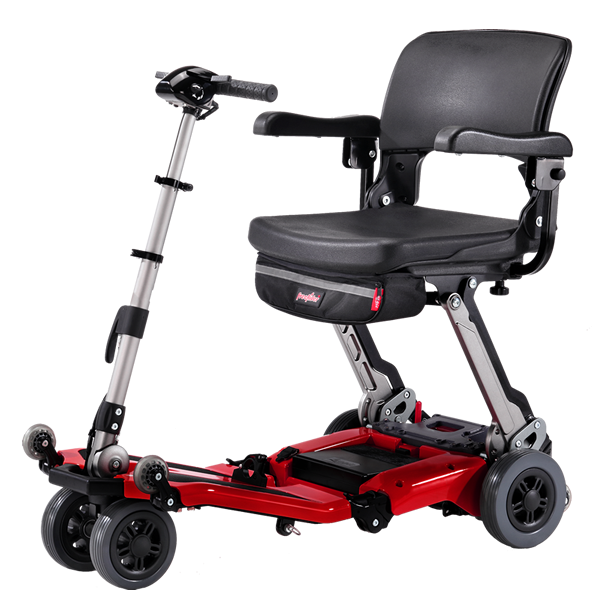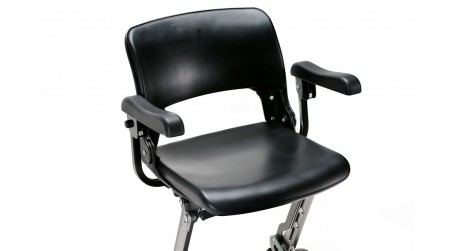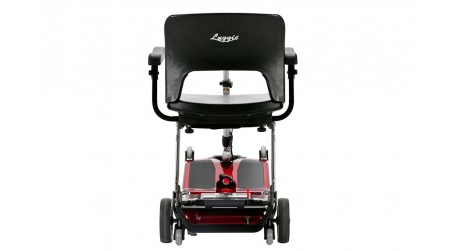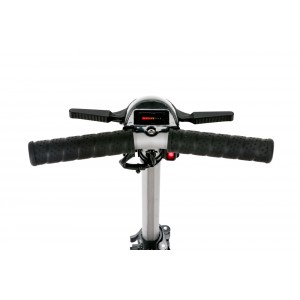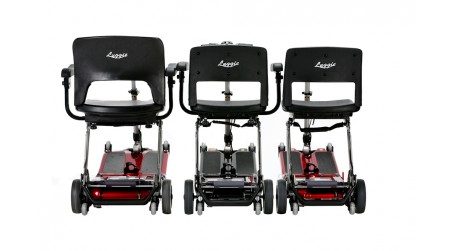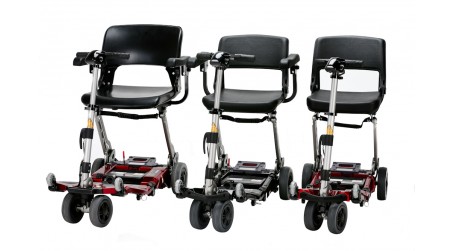 Luggie Super
Luggie Super is the original and best folding mobility scooter, often imitated never bettered. Newly released in early 2016 the Luggie Super is the latest in the Luggie range
With the clever unique folding design still the core focus, the Luggie Super encompasses this and allows extra comfort by adding width and much more to the scooter.
The Luggie Super will carry up to an impressive 25.7 stone and weighs in at 26kgs* (*excluding the battery.) With Luxury in mind the Super offers more leg room, a wider seat, wider handlebars and a digital LED display screen. Along with a larger motor the Super really does give you top of the range transportation!
Not only this the Luggie Super is available in three colours and comes complete with Armrests and the Off-board Charging unit, giving you the option to charge your Luggie anywhere. Simply remove your battery and place in the unit to charge ready for your next outing. Perfect to take along on that long awaited holiday or that overdue visit to friends and family. Supplied with a 10.5amp Lithium Ion battery the Luggie Super is cleared for air travel so you really can go anywhere!
The Luggie really does supplement your current travel arrangements, it fits in 96% of car boots including smart cars! It trolleys behind you to take on the bus and simply sits infront of you like a shopping basket would.
Fly away with the Luggie Scooter! Complete with the lithium Ion battery which has been tested and cleared for safe airline travel you have the world at your feet with the Luggie Super.
Of course Luggie Super has the same amazing unique folding design as other models in the range.
Discover more features about the Luggie Super in the following VIDEO
3.600,00€
(21% VAT included)
REMEMBER: If you have a disability certificate greater than 33% degree, you are entitled to a VAT reduction on this product.
Free Shipping in Spain (peninsula).
Our physical store is located at Calle Cavanilles 7, 28007 Madrid.
Secure SSL Purchase (+info)
Returns: 15 days.
Need any assistance? Contact us +34 915701682
Financing:

Cetelem
From 3 to 60 months
Calculate your fee
GROUND CLEARANCE: 6.4cm/2.5inches
MAX. LOAD: 25.5 stone/163.6kg
RANGE: Up to 10.5miles/16.8km*
TOTAL WEIGHT (EXCL. BATTERIES): 26kgs/57lbs
TURNING RADIUS: 105cm
MAXIMUM SPEED: 6km/4mph
INCLINE: 1 in 6
LITHIUM ION BATTERY PACK: 10.5 amp
BATTERY WEIGHT: 2.2kgs
AVAILABLE COLORS: Champagne
* Data provided by the manufacturer.
Warranty: 2 years and 6 month on the battery
21% VAT and transportation included
Free shipping for orders shipped to Peninsular Spain. Please contact us for orders shipped to the Spanish islands and to other countries.
Reduced VAT rate (4%) will be applied to customer provided 33% disability certificate (or higher degree)