A5000H Pressure Relief Air Mattress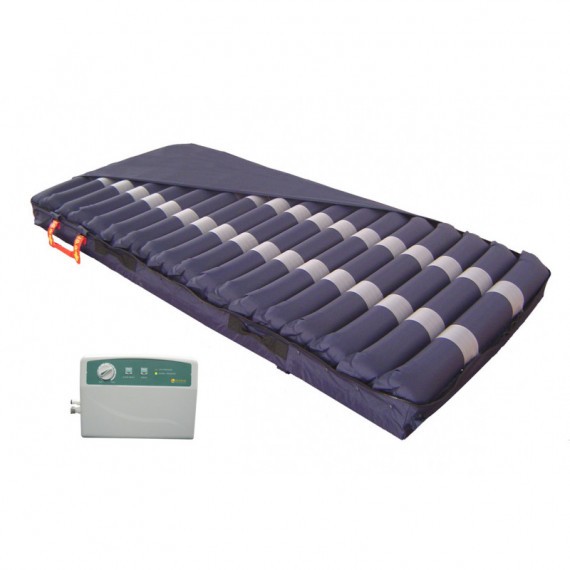 A5000H Pressure Relief Air Mattress
The Sunrise Medical A5000H pressure relief air mattress is designed to provide the greatest comfort to people who spend a lot of time in bed due to illness or disability.
The mattress is made up of 18 alternating cells. You do not need an additional mattress.
The Sunrise Medical A5000H pressure relief air mattress is ideal for people who spend a lot of time in bed due to a disability or illness.
This air mattress has alternating cells. It means that the tubes are inflated or deflated in 12-minute shifts to efficiently relieve pressure, thus preventing the appearance of bedsores, those wounds on the skin caused by immobility. In addition, it contributes to the healing of ulcers that are already there.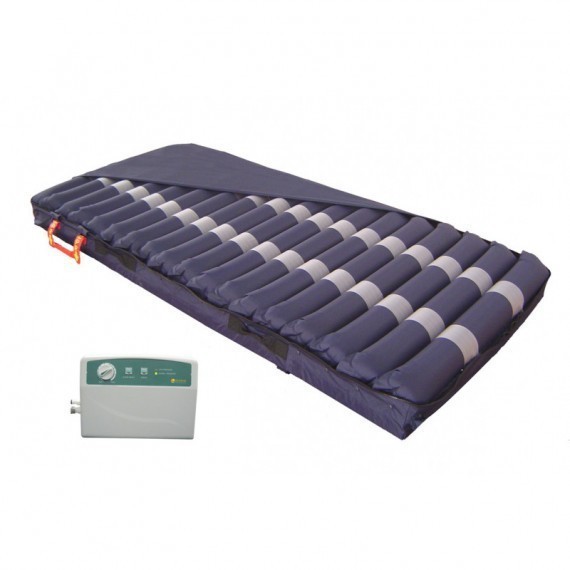 The cell alternation system allows a homogeneous pressure distribution in decubitus, minimizing pressure peaks and protecting areas at risk of developing ulcers due to Pressure.
Compressor with manual pressure regulation, from 40 to 100 mmHg. Mattress composed of 18 air cells and a 5 cm foam base. The 2 cells of the head do not deflate (pillow effect). Allows you to select Alternating or Static mode. Waterproof and breathable nylon sleeve that reduces friction. Low pressure indicator / alarm.
Its function is very simple: connect the compressor to inflate the mattress (without the user being placed on it). The compressor must always be connected to the current so that it can control the inflation and carry out the cycles. The compressor is very quiet and allows the air pressure to be controlled to suit the user's weight. In addition to the alternating mode, it has a static option. It includes an alarm that warns of low pressure.
This anti-decubitus mattress has 18 air cells. The 2 of the head part remain fixed for greater comfort. In addition, it has a 5 cm foam base, so it forms a complete unit that replaces our usual mattress. The mattress cover is impermeable to water, but breathable to sweat, so it favors a correct condition of the skin, avoiding maceration. It also reduces friction in movements.
795,00€
(21% VAT included)
Free Shipping in Spain (peninsula).
Our physical store is located at Calle Cavanilles 7, 28007 Madrid.
Secure SSL Purchase (+info)
Returns: 15 days.
Need any assistance? Contact us +34 915701682
Financing:

Cetelem
From 3 to 60 months
Calculate your fee
Dimensions: 200 x 90 x 17.5 cm. (length, width and height).
Nylon / PU sheath with zipper
Air cells 18 cells: Nylon / PVC
Base: Foam and Nylon / PVC
CPR valve: Yes
Head cells: Fixed
Maximum user weight: 160 kg
TECHNICAL DATA: COMPRESSOR
Air outlet: 8-9 liters / min
Cycle: 12 min
Mode: Static / Alternating
Low pressure alarm: Yes
Measurements: 28 x 2 x 12 cm (length, width, height
Weight: 2.2 kg
* Data provided by the manufacturer.
Warranty: 2 years
21% VAT and transportation included
Free shipping for orders shipped to Peninsular Spain. Please contact us for orders shipped to the Spanish islands and to other countries.