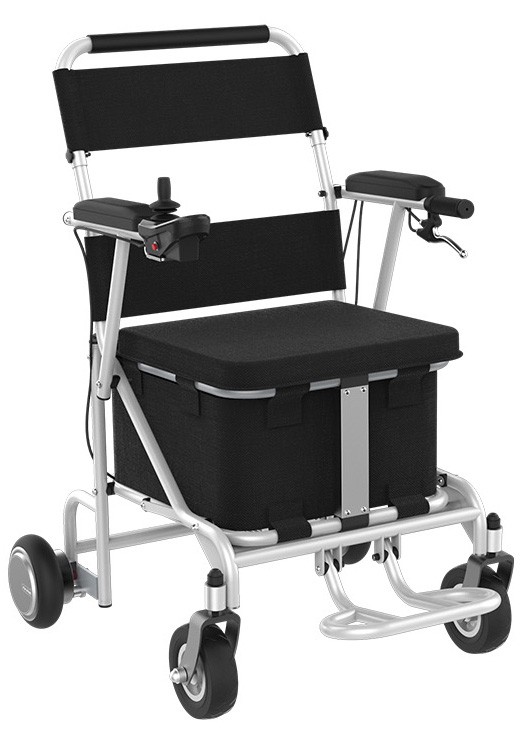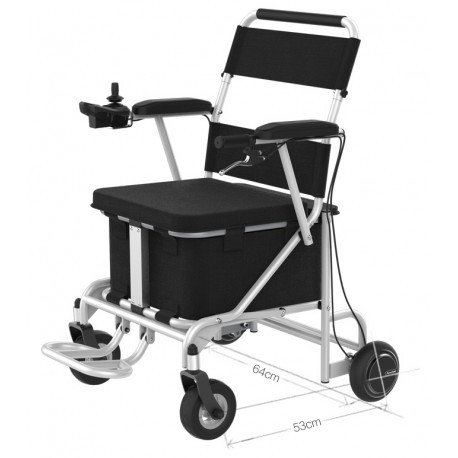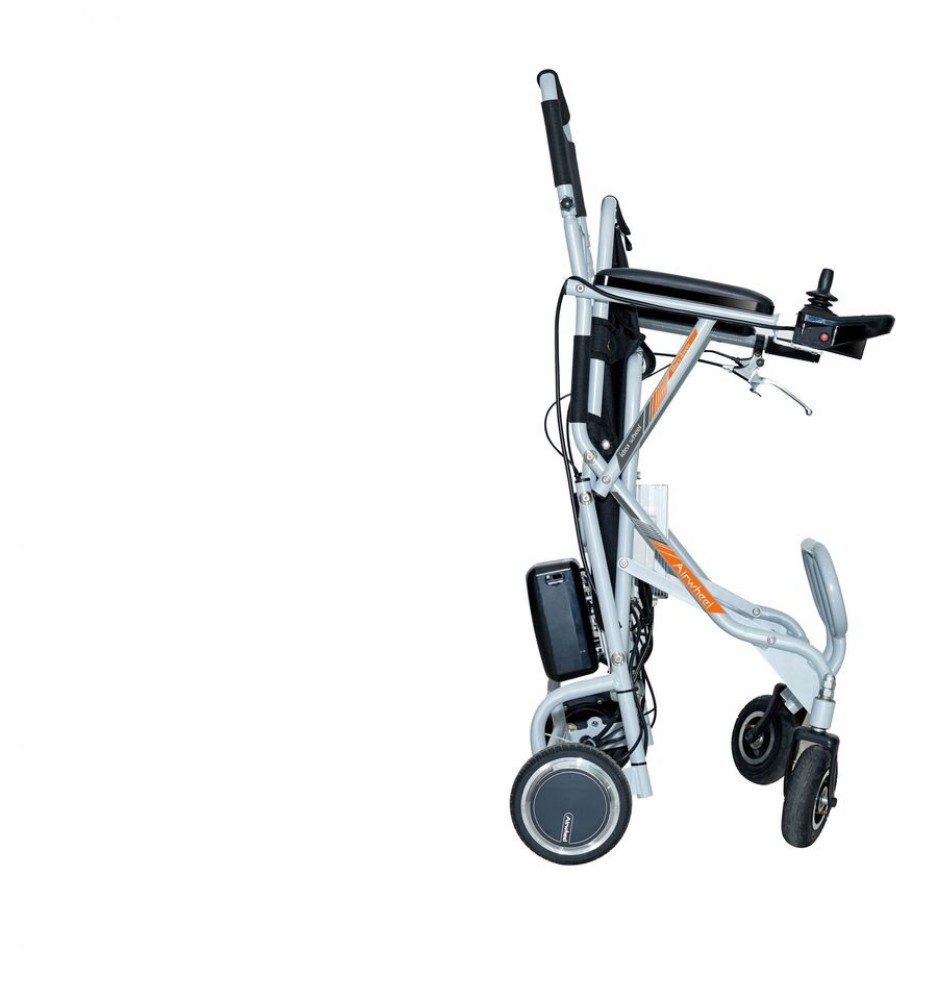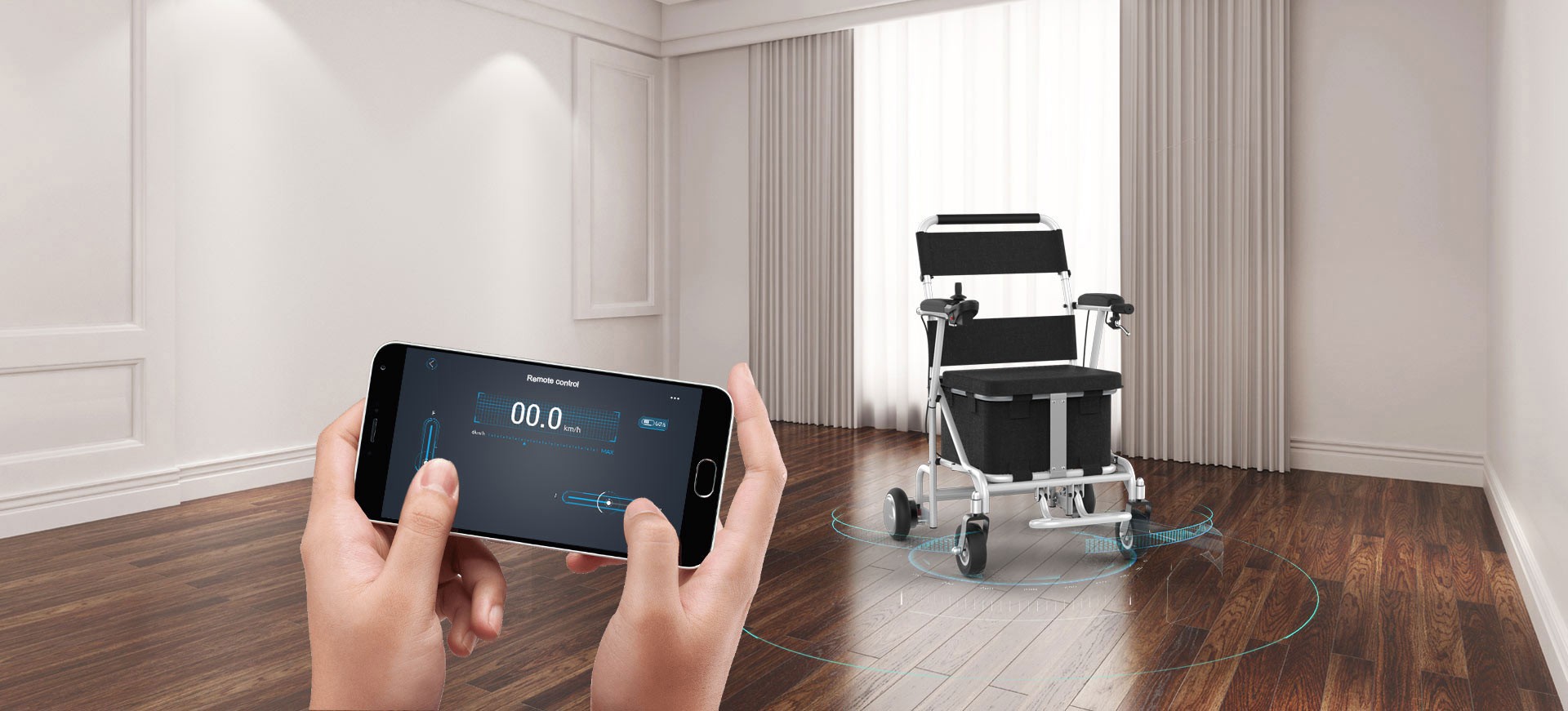 Airwheel H8
The Airwheel H8 is an inexpensive power chair option. The Airwheel H8 is one of the most affordable options on the market.
With the Airwheel H8, you can comfortably ride in speeds up to 3mph, and then fold down your wheelchair whenever you need to transport it. The large storage basket allows you to get out and go about your errands, without having to tote around a ton of bags on your lap.
Airwheel created the H8 to help its users integrate within their communities. Portability is king with the H8, making daily life a breeze. Gone are the days of deciding between your electric wheelchair or manual. With the H8, you can take it anywhere your manual wheelchair could go or just stash it in the trunk for easy transport.
The Airwheel H8 Features
Dual ride modes:
Electric mode (sitting mode): push the handlebar controller to go. Man-powered mode (standing mode): stand and use the power chair as a walker.
Battery
The car-level Li-ion battery set is light and delicate, an ingenious combination of utility and beauty. The branded battery guarantees sufficient and stable power supply.
BMS (battery management system)
Reliable charge and discharge technology not only provides 8-circuit protection, but also enhances the efficiency of charge and discharge. Security is guaranteed.
Removable battery design
The removable battery design provides convenience by allowing the battery to be charged wherever and whenever.
Brushless motor power system
The brushless motor uses magnetic encoders as sensors and is more powerful. Constant engine speed saves battery power and reduces friction, prolonging service life.
Dual alerts
Reverse alert + Horn alert. When turning or reversing, it will give you alert if there are obstacles to ensure the safety of rider and others.
Smartphone APP
Allows riders the ability to control directions and speed, making riding more interesting.
Learn more about the Airwheel H8 watching the following VIDEO
995,00€
(10% VAT included)
REMEMBER: If you have a disability certificate greater than 33% degree, you are entitled to a VAT reduction on this product.
Free Shipping in Spain (peninsula).
Our physical store is located at Calle Cavanilles 7, 28007 Madrid.
Secure SSL Purchase (+info)
Returns: 15 days.
Need any assistance? Contact us +34 915701682
Financing:

Cetelem
From 3 to 60 months
Calculate your fee
Weight (battery): 25 kg
Unfolded dimensions: 72x63x54cm
Folded dimensions: 47x63x84cm
Packaged dimensions: 71x47x98cm
Rear wheels: 16.5cm (Castor wheels)
Fron wheels: 15.3cm (Caster wheels)
Footrest: 29x14cm
Forensic type: Electromagnetic*
Material of the frame: Aluminum alloy6061
Dimensions of the seat: 44x42cm
Maximum speed: 6km/h
Height of the seat: 52cm
Height of the armrest: 74cm
Maximum load: 130kg
Maximum angle: 12th
Turning radius: 0.9m
Distance: 5cm
Maximum height of obstacles: 40mm
Autonomy / timeout: 13km / 3h
Motor: 2x200W Brushless
Battery: Lithium 10Ah, 168WH
Remote control: with mobile: Yes
*Data provided by the manufacturer
Warranty: 2 years and 6 months on the batteries
10% VAT and transportation included
Free shipping for orders shipped to Peninsular Spain. Please contact us for orders shipped to the Spanish islands and to other countries.
Reduced VAT rate (4%) will be applied to customer provided 33% disability certificate 33% (or higher degree)