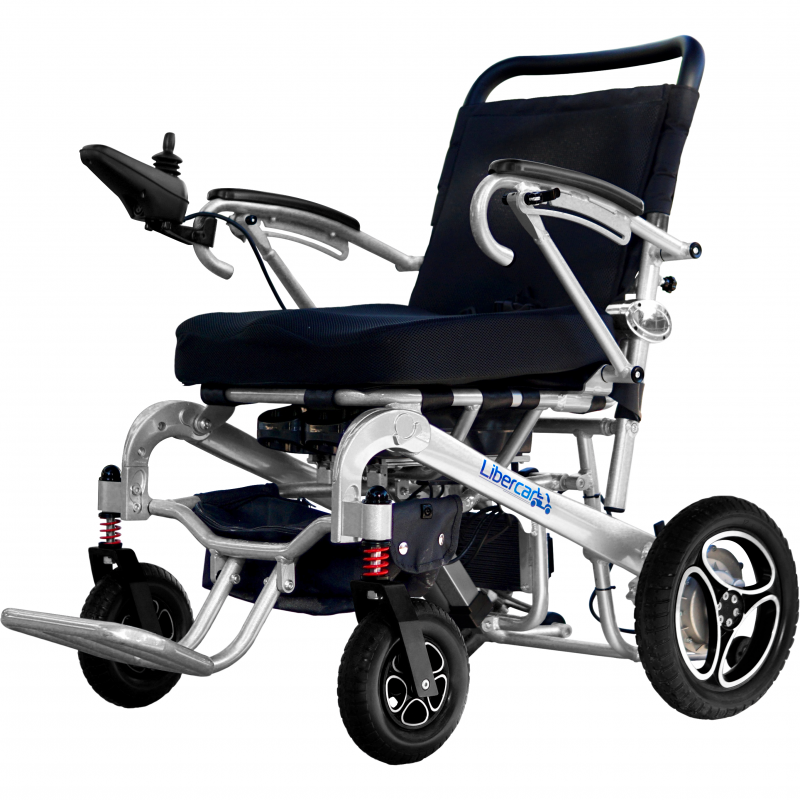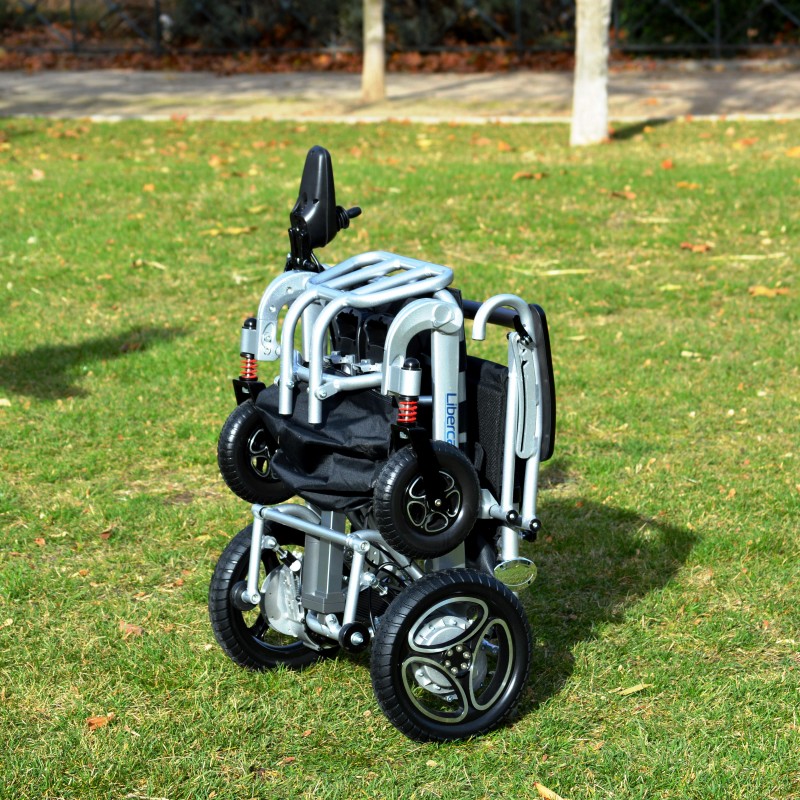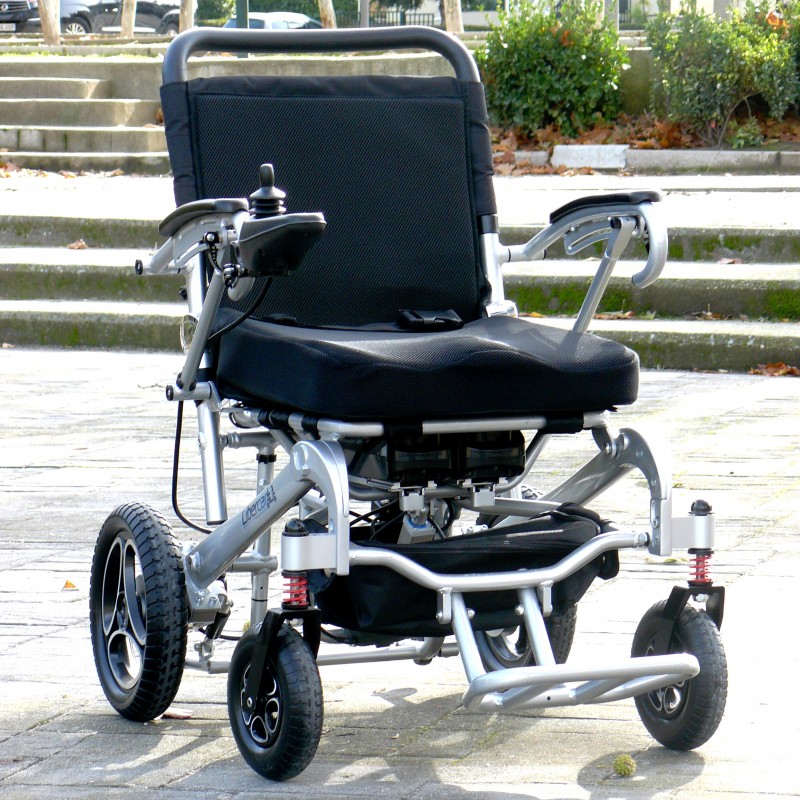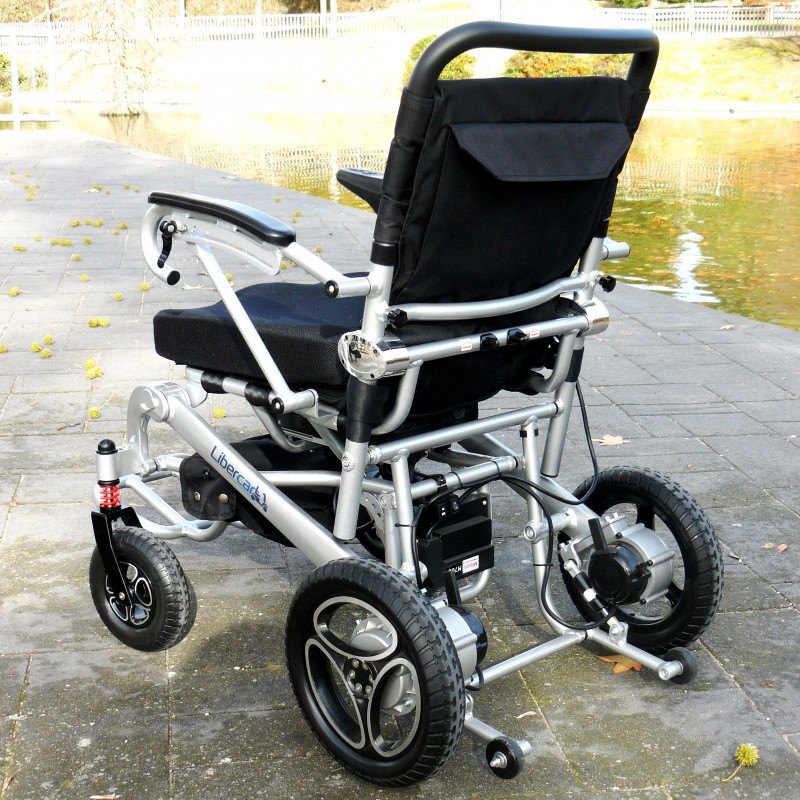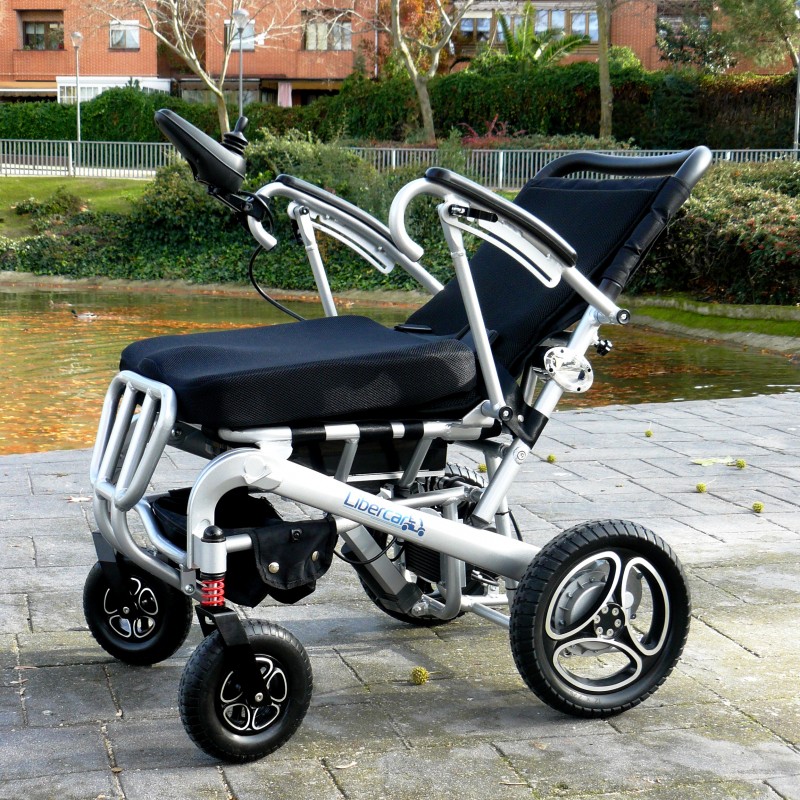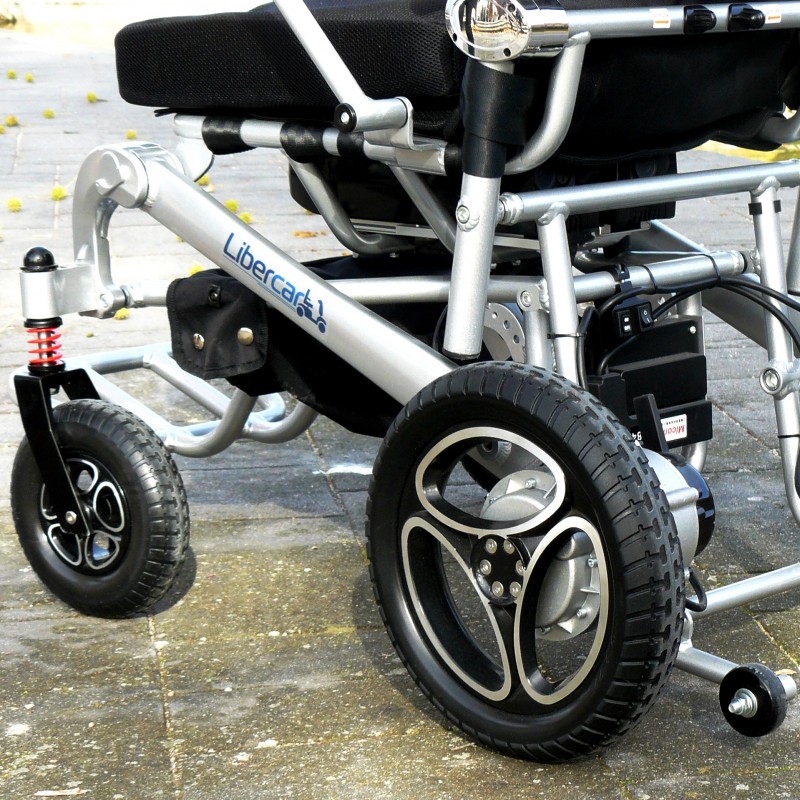 Libercar Aura 20
Enjoy the Libercar Aura 20, one of the lightest folding power chairs available in the market. Its aluminum chassis and 20Ah lithium battery provide ultra-light weight (25.7 kg total weight chair, batteries weight: 2.2kg / each unit) and high performance (speed 8 km/h, autonomy 26km). It is very easy to operate. Electric folding system. Easy storage and transportation.
The Libercar Aura 20 features a new front suspension system that ensures an easy, comfortable and safe drive.
State-of-the-Art Technology
ULTRA-LIGHT: Aluminum chassis and lithium battery ; Weight of the chair structure: 25,7kg - Weight of the removable battery: 2.2kg
ELECTRIC FOLDING WITH REMOTE CONTROL
MAXIMUM ROBUSTNESS: recommended maximum weight 135 kg
HIGH PERFORMANCE:
Brushless motors: 2x250W - Lithium Battery: 20Ah
Large wheels - Front cushion
Max speed 8km/h - Autonomy max. 26km
Digital joystick - 5 speeds - Progressive intensity
Modern and comfortable design
Robust and lightweight
Large anti-puncture wheels: Rear 30cm - front 20cm
Aluminum wheels
Front cushioning
Ultralight aluminum structure
Weight of the chair structure: 25.7kg
Removable lithium battery: 2.2 kg
Lithium Technology
Lithium technology advantages
- Less weight - Higher benefits
- Greater longevity
- Reduced self-discharge rate
- No memory effect problems
3 loading options
- Through the joystick
- Through battery mounted chair
- Removable battery socket
Folding and electrical deployment with remote control
The Libercar Aura 20 has modern and comfortable electric folding system with remote control. The chair opens and closes without effort and in a few seconds. Its small dimensions and its great lightness allow transport and store the chair easily.
The remote control is activated with a security code to avoid involuntary actions while using the chair. It also has a switch folding to open or close the chair electrically in case of loss of the mote control or when you run out of batteries.
Multiple adjustments
The chair is adjustable in length:
Open chair: 104cm
Folded footrest: 84cm
Folded chair: 35cm
Adjustable backrest in height:
Adjustable height backrest
Folding footrest and armrests:
The platform of the footrest is collapsible. It stays at the same height level of the seat, facilitating the maximum the approach to the chair to get in or off.
Equipment and Versatility
Seat belt
Object carrying case
Anti-perspirant fabric
Folding armrests
Folding footrest
Adjustable height backrest.
Aluminum wheels
Large wheels
Removable battery
Digital display joystick
5 speeds
Adaptable for right-handers and left-handers
Progressive acceleration intensity
Battery indicator and acoustic warning
Accompanying joystick (optional)
The Libercar Aura 20 is a very useful folding power chair that will help you in your daily routines.
Watch this interesting VIDEO of the Libercar Aura
Watch this interesting VIDEO of the Libercar Aura
1.825,58€
(10% VAT included)
REMEMBER: If you have a disability certificate greater than 33% degree, you are entitled to a VAT reduction on this product.
Free Shipping in Spain (peninsula).
Our physical store is located at Calle Cavanilles 7, 28007 Madrid.
Secure SSL Purchase (+info)
Returns: 15 days.
Need any assistance? Contact us +34 915701682
Financing:

Cetelem
From 3 to 60 months
Calculate your fee
Motor: 2 x 250W
Batteries: LITHIUM 1x20Ah
Max speed: 8 km/h
Aluminum chassis: YES
Max. Autonomy: 26 km
Joystick with digital display: YES
Chair normal length: 104 cm
Chair length folded: 35 cm
Normal width: 62 cm
Length with folding footrest: 84 cm
Chair height: 93-106 cm
Seat width between armrests: 51 cm
Chair Total weight: 27.9 kg
Lithium battery weight (ud) 1.8 kg
Chair frame weight: 2.7 kg
Independent battery charging: YES
*Joystick and footrest photos are not the same as current design
*Data provided by the manufacturer
Warranty: 2 years and 6 months on the batteries
10% VAT and transportation included
Free shipping for orders shipped to Peninsular Spain. Please contact us for orders shipped to the Spanish islands and to other countries.
Reduced VAT rate (4%) will be applied to customer provided 33% disability certificate 33% (or higher degree)