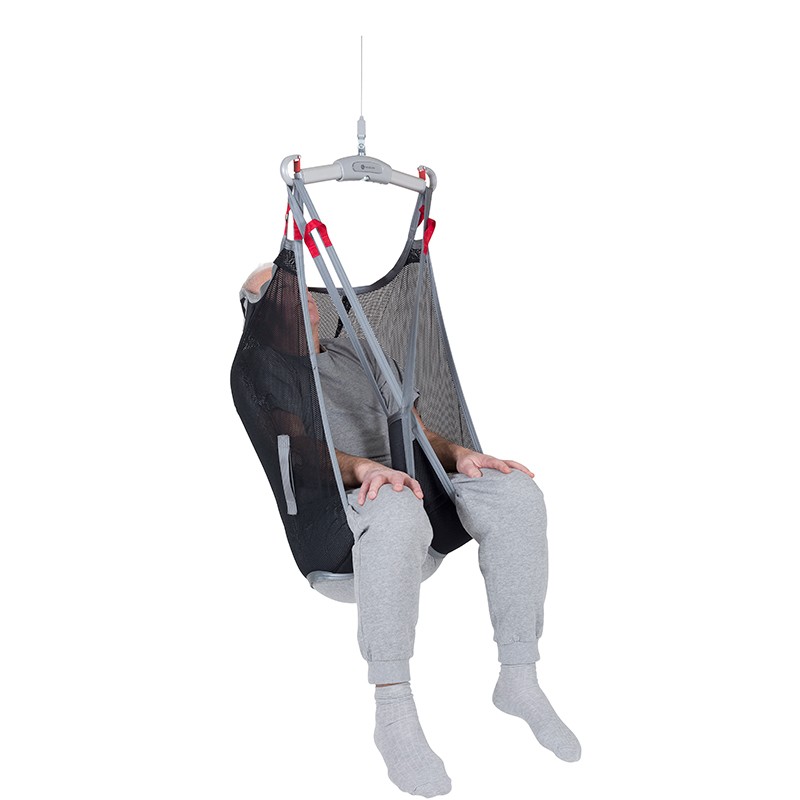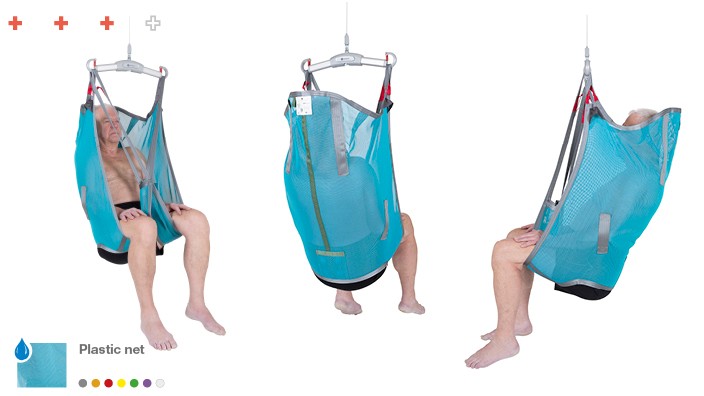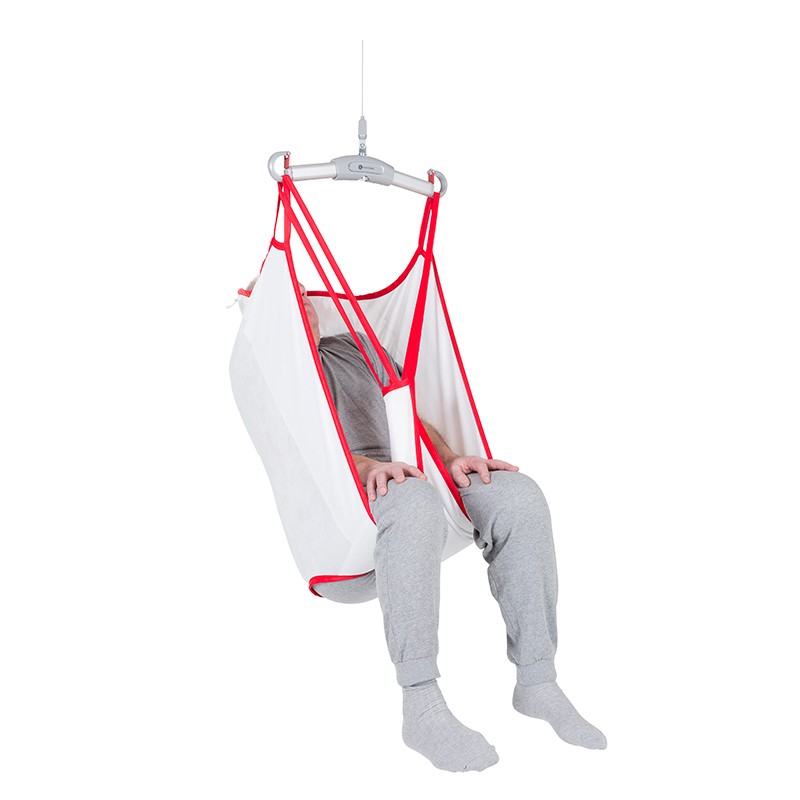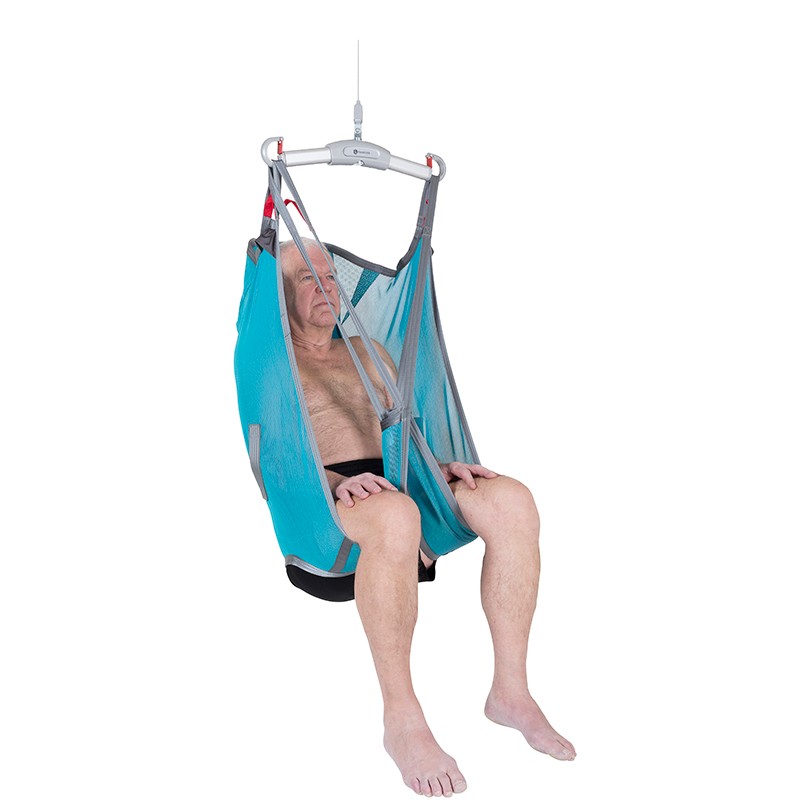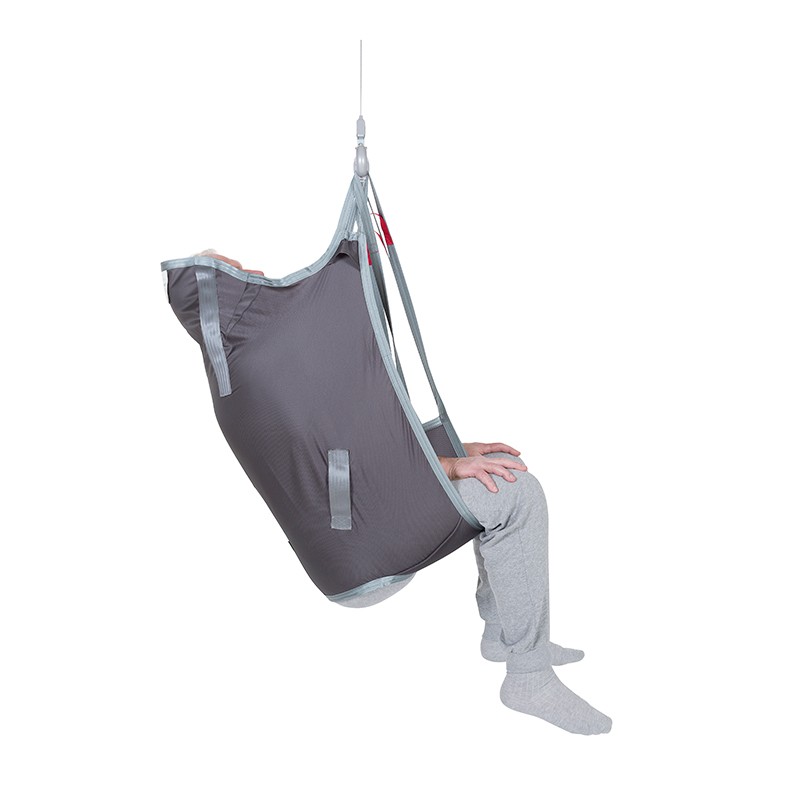 Highback sling
Each model of our Slings has been designed and manufactured to perform optimally, both for users and carers, in one or more specific lifting situations. Some models and materials work best for transfers in a sitting position, for example between bed and chair, while others are adapted for situations such as lifting from a reclined position, for hygiene, bathing or showering. Each product page includes information on which situations are suitable for the available sling models.
All slings can be used to advantage in conjunction with SystemRoMedic ™ mobile hoists and overhead crane systems, but can of course also be used with other manufacturers' hoist. For more information on possible combinations, please consult your local SystemRoMedic ™ dealer.
Disposable material for maximum hygiene and safety
HighBackSling, disposable is made of a strong and durable non-woven material. Instead of being washed, the sling is discarded after use, when it becomes dirty or when the user no longer needs it. This prevents the spread of multi-resistant germs and other types of infectious bacteria. HighBackSling, disposable is a sling for short-term use and for users weighing up to 200 kg. The largest size, XXL, can be used by users weighing a maximum of 300 kg.
175,00€
(21% VAT included)
Free Shipping in Spain (peninsula).
Our physical store is located at Calle Cavanilles 7, 28007 Madrid.
Secure SSL Purchase (+info)
Returns: 15 days.
Need any assistance? Contact us +34 915701682
Financing:

Cetelem
From 3 to 60 months
Calculate your fee
Split leg supports; easy for caregiver to put on and take off, user does not sit in harness
High back, the user receives support from the coccyx, to above the head and under the legs
Slightly reclined sitting position
Standard model, suitable for most users
Removable plastic slats provide main support with greater stability
HighBackSling in polyester mesh is available with and without reinforced leg supports
HighBackSling in disposable material has a rigid head support and reinforced leg supports
Pocket on the lower edge of the back for easier donning
Safe operational load 300 kg (disposable: 200 kg)
*Data provided by the manufacturer.
Warranty: 2 years
21% VAT and transport included
Free shipping for orders sent to mainland Spain. Contact us for orders shipped to the Spanish islands and other countries.