Invacare Esprit Action 4 NG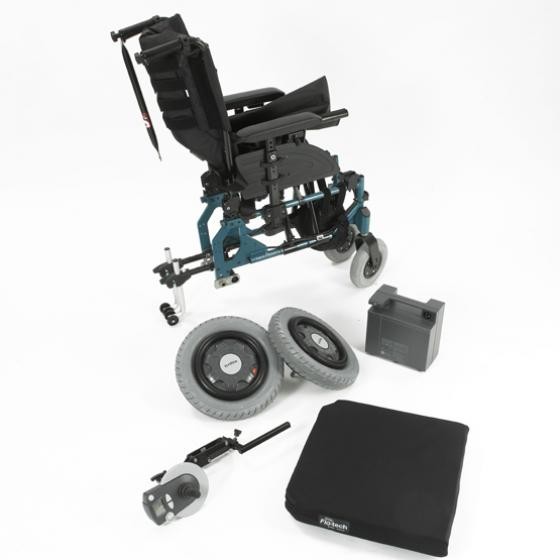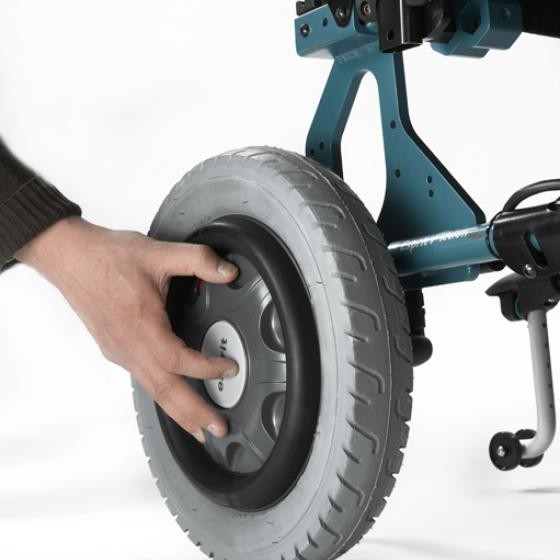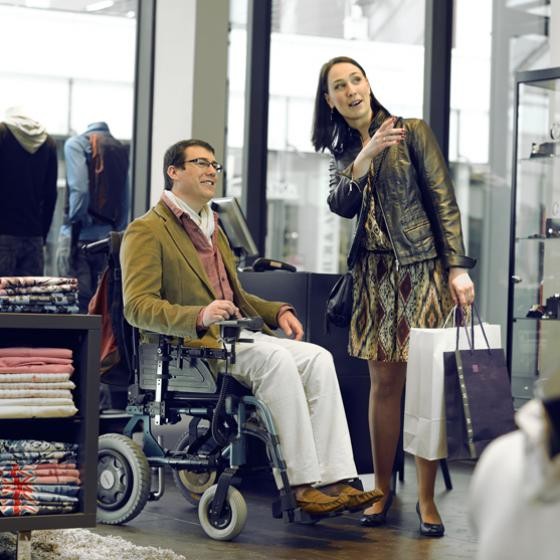 Invacare Esprit Action4 NG
The Esprit Action4 NG is a brand new powered wheelchair from Invacare, uniquely designed for transport. The wheelchair can be easily dismantled with no tools required, with the frame then folding up into a compact size. Unlike other powered wheelchairs that present themselves as being easy to transport in a car, the heaviest part of the Esprit Action4 NG is just 15 kg, meaning it is as easy to lift as our lightweight manual wheelchairs.
Key features:
- Uniquely disassembles for transport
- Heaviest part just 15 kg
- Extremely narrow frame
- Can convert into manual wheelchair
The key to the Esprit Action4 NG"s innovative design is that the motors are built into the rear wheels, both of which can be detached by simply pushing and turning them. This keeps the weight of the main frame down to the same as that of a manual wheelchair, allowing it to be easily lifted into and out of a car for transport. With no tools required, the Esprit Action4 NG has no fiddly parts to remove, and is as easy to disassemble and reassemble as a boot scooter, requiring just one person to do the job.
As a result of its design, the motors sit inside the wheels, giving the wheelchair an extremely narrow frame. This allows it to be manoeuvred around tight spaces indoors, such as in shops. The wheelchair is equally capable outdoors, though it lacks the longer range found on more traditional electric wheelchairs, unless upgraded to the larger 17Ah batteries. Clever wheel protection bumpers are fitted to protect the tyres and alloys from accidental hits.
A number of customisation options are available for the Esprit Action4 NG, including seat widths of 15 - 24 inches, and seat depths of 16 - 20 inches. Further options such as a reclining backrest, attendant controls, headrests, and a table are available. Additionally, self-propelled wheels are available, which can be easily fitted to quickly convert the wheelchair between a powered one and a manual one - another unique feature of the wheelchair. Several frame colours are also available to personalise the appearance of your wheelchair.
Finally, a paediatric "Junior" version of the Esprit Action4 NG can be supplied, with smaller seat sizes that can be adjusted as the child grows.
A truly unique wheelchair, the Invacare Esprit Action4 NG is best suited to people for whom easy car transportability is vital. Requiring just one person to disassemble and lift into a car, it allows you to regain your independence in a way unrivalled by any other powered wheelchair. The Esprit Action4 NG is available for purchase, long-term hire and on the Motability scheme. Additionally, it is available to try "before you buy" through hiring on a short-term basis for those looking to subsequently purchase or hire on a long-term basis.
3.297,00€
(10% VAT included)
REMEMBER: If you have a disability certificate greater than 33% degree, you are entitled to a VAT reduction on this product.
Free Shipping in Spain (peninsula).
Our physical store is located at Calle Cavanilles 7, 28007 Madrid.
Secure SSL Purchase (+info)
Returns: 15 days.
Need any assistance? Contact us +34 915701682
Financing:

Cetelem
From 3 to 60 months
Calculate your fee
Width: Seat width + 0.7 in (1.7 cm)
Length: 35 - 43 in (90 - 110 cm)
Weight: 7 st (45 kg)
Drive: Rear-wheel
Seat width: 15 - 24 in (38 - 60.5 cm)
Seat depth: 16 - 20 in (40 - 50 cm)
Seat height: 18 or 19 in (46 or 48.6 cm)
Weight capacity: 19.7 st (125 kg)
Speed: 4 mph (6 kmph)
Range: 8 or 18.5 miles (14 or 30 km)
Transit approved: Yes
* Data provided by the manufacturer
Warranty: 2 years and 6 months on the batteries
10% VAT and transportation included
Free shipping for orders shipped to Peninsular Spain. Please contact us for orders shipped to the Spanish islands and to other countries.
Reduced VAT rate (4%) will be applied to customer provided 33% disability certificate 33% (or higher degree)