Super Care dynamic anti-bedsore mattress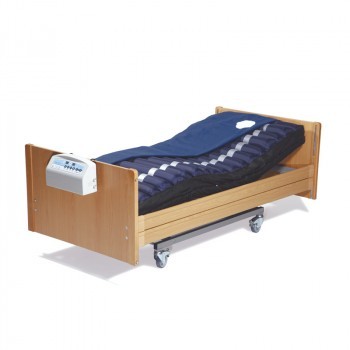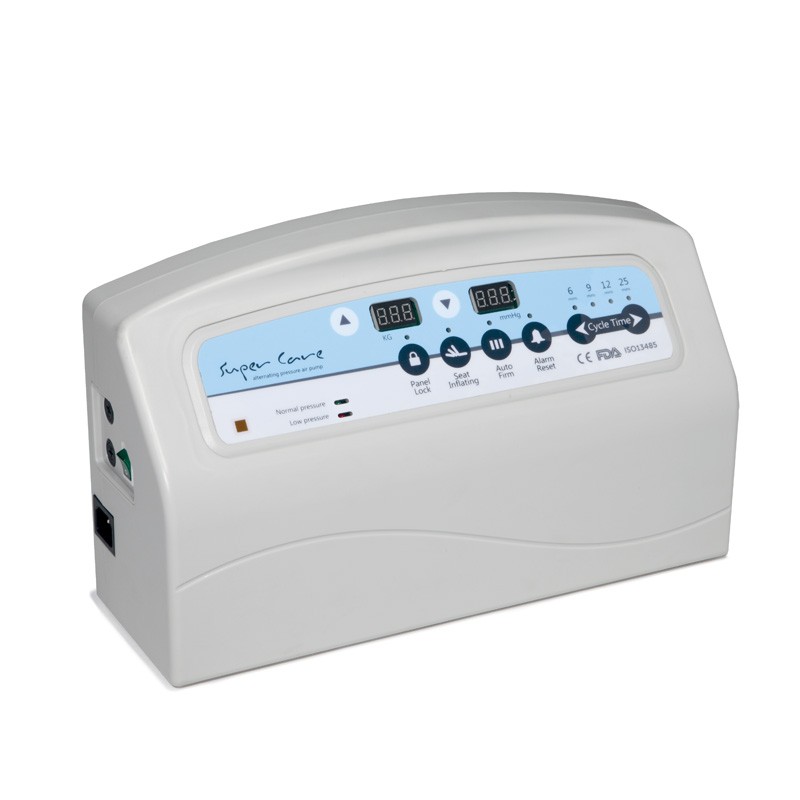 Super Care dynamic anti-bedsore mattress
Super Care dynamic anti-bedsore mattress is a professional system with electronic control prevents and treats pressure ulcers in decubitus. Thanks to the alternation of pressures that avoids prolonged vascular compression in patients who are bedridden for long periods of time and who present a high risk of bedsores. The tube mattress, with cover, is equipped with a rapid deflation valve (CPR) for use in emergencies, such as cardiac arrest that requires immediate attention.
Super Care equipment are high quality systems consisting of an alternating mattress and a compressor and are designed for the prevention and treatment of pressure ulcers in patients bedridden for long periods of time (recommended for people who spend more than 15 hours bedridden per day) and who present a medium to high risk.
The system is designed to treat pressure ulcers 24 hours a day. By alternating the pressure at a sufficient rate, we avoid vascular compression and tissue deterioration. The traditional system to prevent or control pressure ulcers is to perform posture regularly on the patient. Observing the patient and continuing with these postural changes can be a complementary part of the treatment, even with this mattress.
The Super Care compressor is very quiet and durable as it uses an electromagnetic control valve instead of traditional rotary motors.
Super Care systems have been tested and certified to the following standards: CE, FDA. Super Care equipment tries to reduce the incidence of pressure ulcers while providing comfort to the patient. It is commonly used to:
 • Long-term home or institutional care.
 • Palliative treatment, (of pain) when prescribed by a doctor.
730,00€
(21% VAT included)
Free Shipping in Spain (peninsula).
Our physical store is located at Calle Cavanilles 7, 28007 Madrid.
Secure SSL Purchase (+info)
Returns: 15 days.
Need any assistance? Contact us +34 915701682
Financing:

Cetelem
From 3 to 60 months
Calculate your fee
Mattress Characteristics:
• High density 5cm HR foam base and 11.5cm Nylon / PVC tubes
• Zippered cover
Compressor Characteristics:
• Flow: 14 liters / minute
• Pressure range: 18 - 105 mmHg
Compressor Functions:
• Regulation according to the patient's weight. The weight of the patient is simply programmed and the internal computer regulates the mattress.
 • 4 time cycles: 6, 9, 12 and 25 minutes. For different therapies and to facilitate night rest.
• Sitting position. Avoid excessive pressure on the coccyx when the bed is upright or the patient sitting on the bed.
• Auto Firm. Essential function to guarantee the security of the system. See explanatory note on the previous page.
• System lock to prevent unwanted manipulation of system settings.
• Low pressure alarm. It warns when the pressure is below the programmed one.
The easiest-to-use system on the market: just enter the user weight and the desired cycle time and the compressor electronics does the rest.
Model: AD999
Mattress Measurements: 200 x 90 x 16.5cm
Compressor Width: 34cm
Compressor depth: 12 cm
Compressor Height: 21cm
Weight: 2.34 kg
*Data provided by the manufacturer.
Warranty: 2 years
21% VAT and transportation included
Free shipping for orders shipped to Peninsular Spain. Please contact us for orders shipped to the Spanish islands and to other countries.