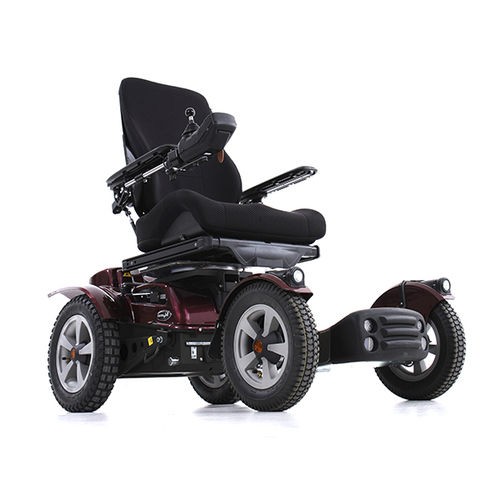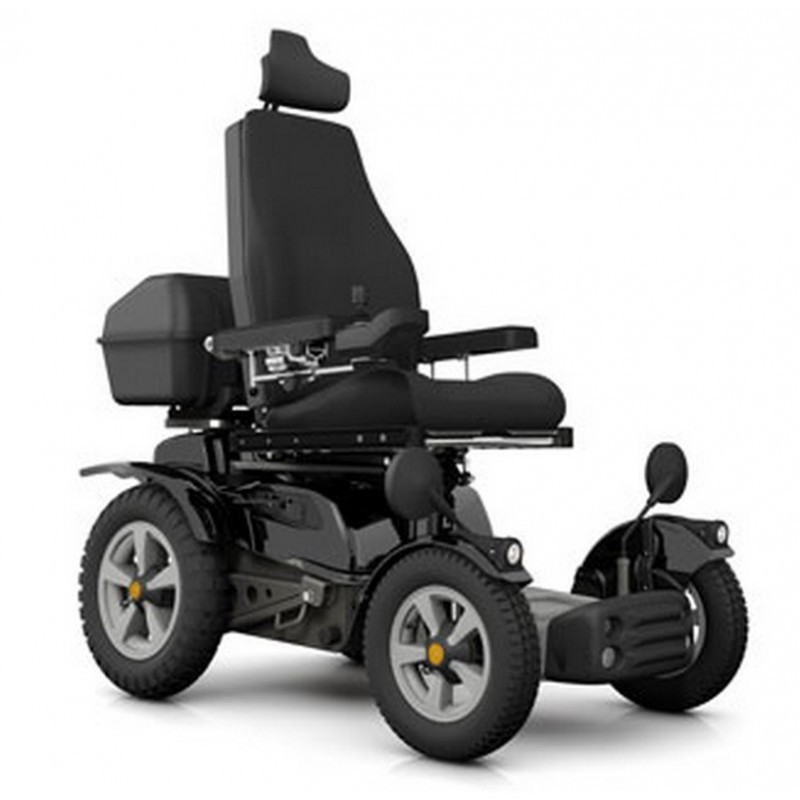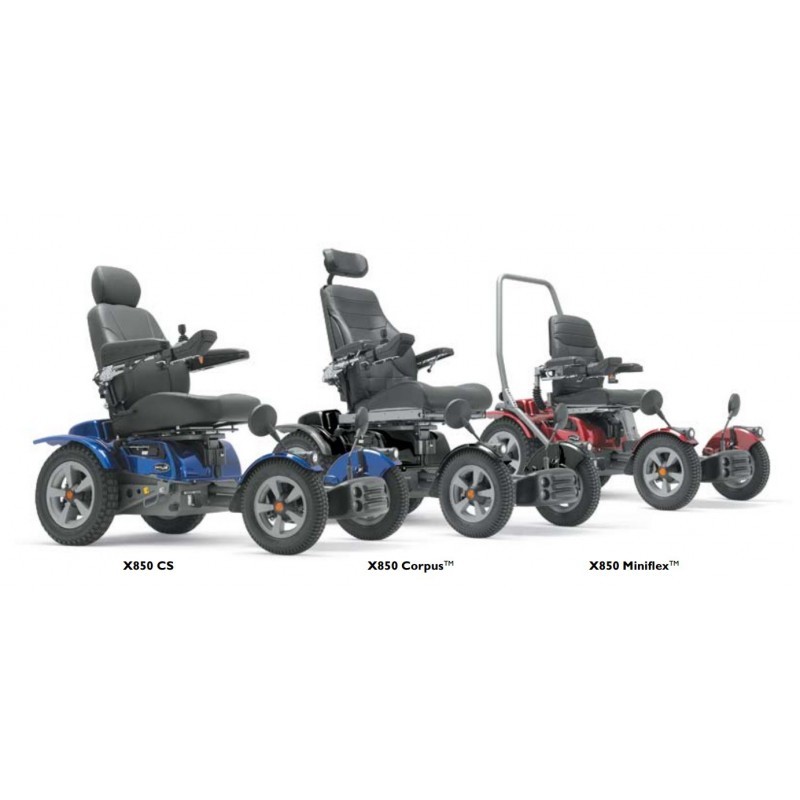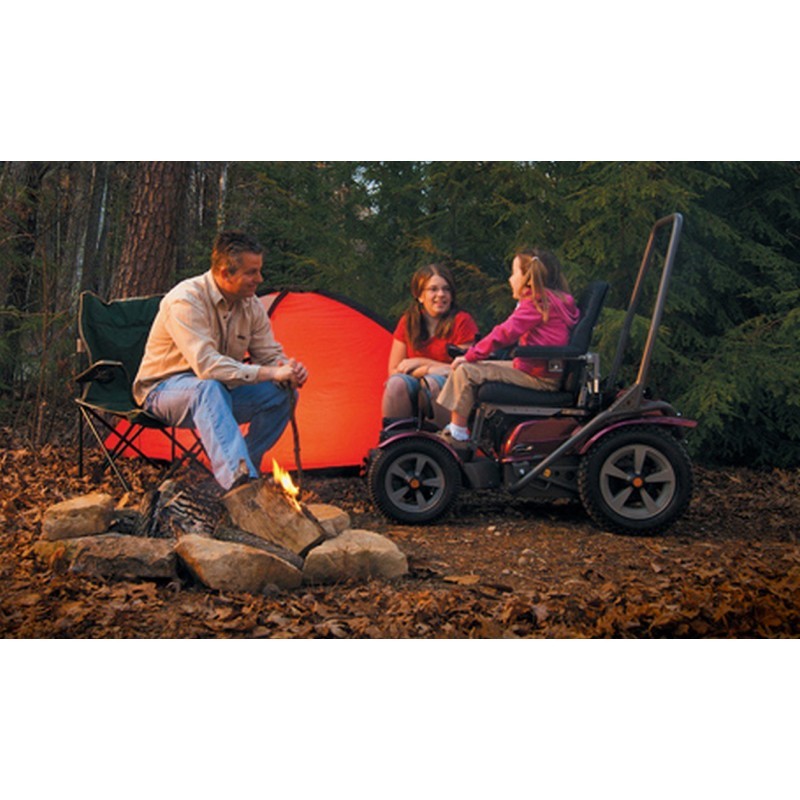 Permobil X850
Permobil X850 not only looks good, but is designed for a tougher ride.
You need a stable chair to take you into town or through the fields. The nearest store may be far away, take your wheelchair to work, or want to accompany someone on a bike ride. In this case, it is important that you have the feeling of having a chair that works for it. With rear-wheel drive, a strong engine and sturdy suspension, you"ll have a seat that can safely carry you at 15km/h. Permobil X850 model incorporates a 180º seat rotation that makes moving easier. Another novelty is that it has active corner lights that follow the driving direction, rear-view mirrors with suspension and rubber bumpers that resist small knocks. As we consider safety to be the most important thing, Permobil X850is equipped with ESP (Electronic Steering Performance) that controls the drive motor and manages to maintain control when cornering. Servo control with control lever that can be programmed according to need.
Designed for demanding outdoors
The steering is electronic power-assisted and comes with an integrated light kit with rear LED taillights, turn signals and headlights mounted on the wheels. An outdoor chair
Its off-road qualities have left us amazed. The ease of saving steps up to 10 cm. high without curb climbers and the skill you have when driving through open fields with rough terrain. A more refined chair with more attention to finish than its previous model. The chassis can be electrically lengthened (optional) to give more stability. In this way the chair improves its ability to overcome obstacles. In short, we have an outdoor chair with scooter speed, 15 km/h, with which you will not be afraid of any terrain.
3 types of seats for all needs
Permobil X850 CS
Seats Offer a comfortable design with an exclusive shape. The rotation of the seat allows it to rotate 90º in both directions whenever you want to get in and out of the chair. If you have chosen the seat elevation, simply pressing a button will raise it 20cm. If you want to stop for a moment and rest, you can manually recline the backrest; It is also possible to fold it down for the transport of the chair.
PermobilX850 CorpusTM Corpus
Seat offers various electrical functions as an option. Changing the position of the backrest and footrest, only with the control panel, can be advantageous. There is also the possibility of electric adjustment of the seat elevation, if desired. As with CS seats, seat rotation is possible, both manually and electrically.
PermobilX850 MiniflexTM
Your child can grow with the Miniflex model. You can choose between three widths and different seat backs, plus there are the same number of options for high and wide backrests. The seats are perfect for children up to 35kg. Choose between plaster or fabric and if necessary we will of course adapt it. As an option there is, of course, the elevation of the seat, to raise it a little.
Contact us for price information
Free Shipping in Spain (peninsula).
Our physical store is located at Calle Cavanilles 7, 28007 Madrid.
Secure SSL Purchase (+info)
Returns: 15 days.
Need any assistance? Contact us +34 915701682
Financing:

Cetelem
From 3 to 60 months
Calculate your fee
Seat Width: 42 / 47 / 52 / 57
Seat Depth: 37 / 39.5 / 42 / 44.5 / 47 / 49.5 / 52 / 54.5 / 57
Floor to Seat Height: 54 (Standard) 54 to 74 (Powered) (Optional)
Seat Lift Height: 20 (Powered) (Optional)
Seat Tilt: 15°
Backrest Height: 47 / 54.5 / 57 / 59.5 / 62 / 64.5 / 67
Backrest Recline: 45° (Manual) (Standard) - 35° (Powered) (Optional)
Armrest Height: 18.5 to 32
Speed: 15 km/h (9.3 mph)
Battery Size: 97Ah
Max. Range: 45km
Turning Radius: 168
Max. Kurb Climb: 11
Electronics: R-Net
Maximum User Weight: 136kg
Total Length: 126 to 146
Total Width: 72
Total Weight: 203kg
*Data provided by the manufacturer
Warranty: 2 years and 6 months on the batteries
10% VAT and transportation included
Free shipping for orders shipped to Peninsular Spain. Please contact us for orders shipped to the Spanish islands and to other countries.
Reduced VAT rate (4%) will be applied to customer provided 33% disability certificate 33% (or higher degree)