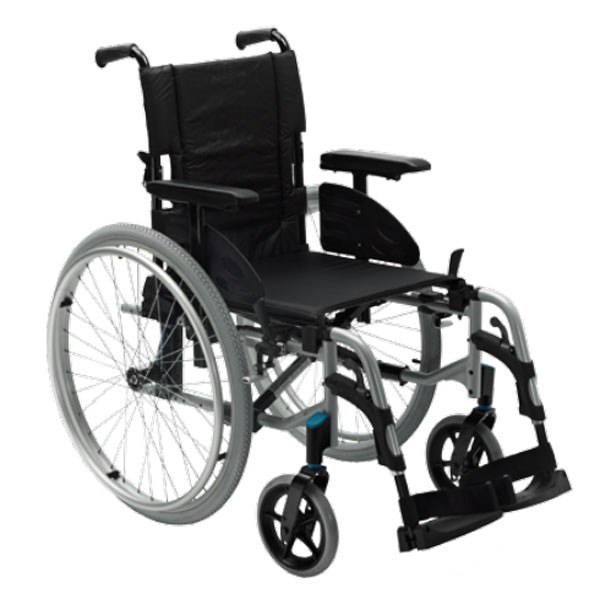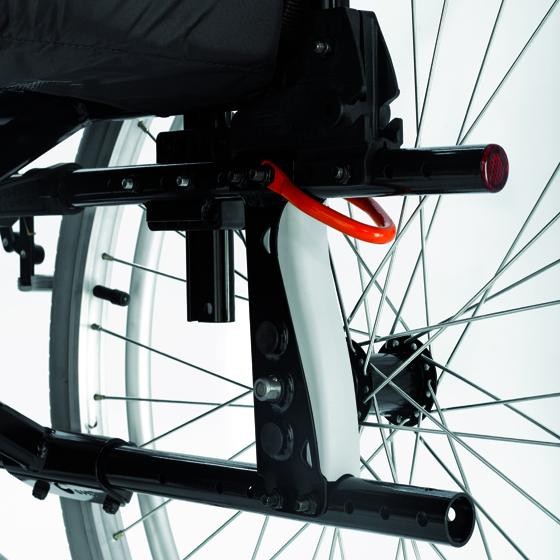 Invacare Action 2NG
The Invacare Action 2NG specifications meet the needs of clients refusing to compromise on safety or comfort. The next generation Invacare Action 2NG offers a low total weight for easy folding, handling and transportation, combined with good driving abilities.
Quality and performance for everyday mobility
The Invacare Action 2NG provides essential support to positively enhance everyday mobility. It's easy handling makes the wheelchair ideal for basic needs with quality components to give effortless rolling performance both in doors and out. A great bonus to the Action2NG is it's cross compatibility throughout the Action range, offering familiarity and flexibility to a hugely successful Action family.
Light and comfortable
With a weight from 14.9 kilos, the Invacare Action 2 NG fulfills all essential functional requirements. The stable folding frame means the wheelchair is easy to handle, and being lightweight makes transportation trouble-free.
Quality of life
The tried-and-tested technology of the Action family products allow individuals to go wherever they desire. Cross-compatibility between a number of components on the Action 3 NG, Action 4 NG and Action5 make this an ideal, basic, fleet product that can be easily adapted to meet individual needs. Also available in a transit version.
Features & Options
+ Castor housing: The castor housing is mounted outside to have more space for the feet when transfering of foot propelling.
+ Adjustable center of gravity: The rear wheel plate can be adjusted by 50 mm in depth and propose 3 positions in height.
+ Anti-tippers:Provide extra safety on slopes or uneven ground.
You can see more detailed information about the Invacare Action 2NG wheelchair watching the following VIDEO
280,00€
(10% VAT included)
REMEMBER: If you have a disability certificate greater than 33% degree, you are entitled to a VAT reduction on this product.
Free Shipping in Spain (peninsula).
Our physical store is located at Calle Cavanilles 7, 28007 Madrid.
Secure SSL Purchase (+info)
Returns: 15 days.
Need any assistance? Contact us +34 915701682
Financing:

Cetelem
From 3 to 60 months
Calculate your fee
Aluminum folding frame by crosshead.
Seat widths: 40.5, 43 or 45.5 cm. 48cm seat width option. for self-propelled wheel only.
24" rear wheels (pneumatic or solid) with standard quick-release axle or Transit kit with 315mm non-self-propelling wheel. Solid
6" front wheels
Folding armrests to the rear of 24cm. Tall.
Padded backrest upholstery.
Removable footrests, folding inwards or outwards and adjustable in height from 33 to 46cm.
Folding and adjustable footrest platforms.
Pearl gray color.
Black nylon upholstery.
Push brakes.
Seat width: 40.5, 43 or 45cm. 48cm seat width option. only for self-propelled wheel
Seat depth: 40cm. for the seat width of 40.5cm. and 42.5cm. for 43 and 45.5cm seat widths.
Total chair width: seat width + 20cm. (+ 15.5cm. With non-self-propelling wheels)
Seat height - floor without cushion: 49cm.
Backrest height 43cm.
Total folded width 32.5cm. (24cm. With non-self-propelling wheels)
Total length with footrest: 104cm. (90cm. With non-self-propelling wheels)
Total length without footrest: 82cm. (68cm. With non-self-propelling wheels)
Chair weight from 13.8Kg. (from 14.9Kg. with non-self-propelling wheels)
Maximum user weight: 125Kg
*Data provided by the manufacturer
Warranty: 2 years
10% VAT and transportation included
Free shipping for orders shipped to Peninsular Spain. Please contact us for orders shipped to the Spanish islands and to other countries.
Reduced VAT rate (4%) will be applied to customer provided 33% disability certificate or higher degree)