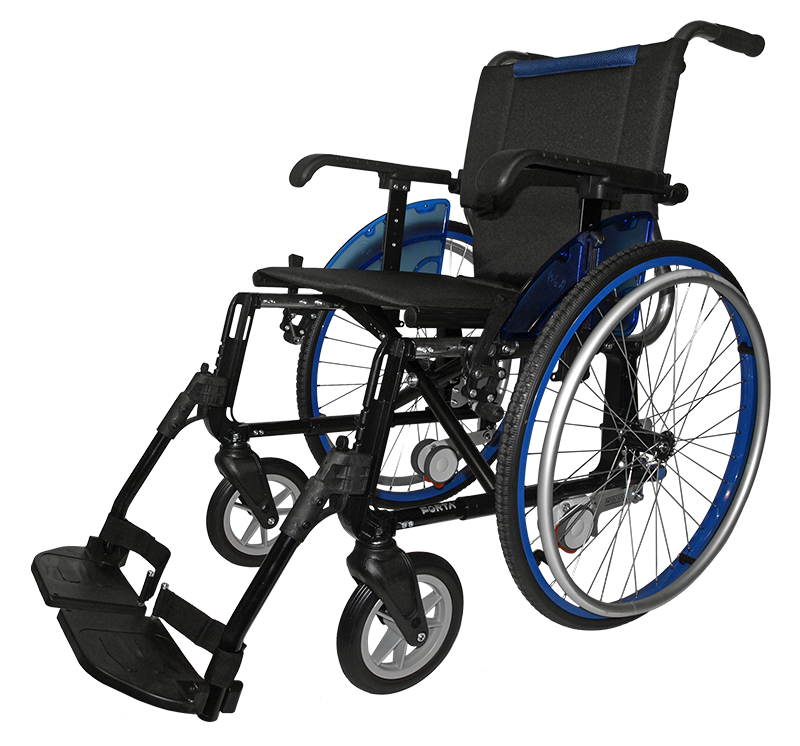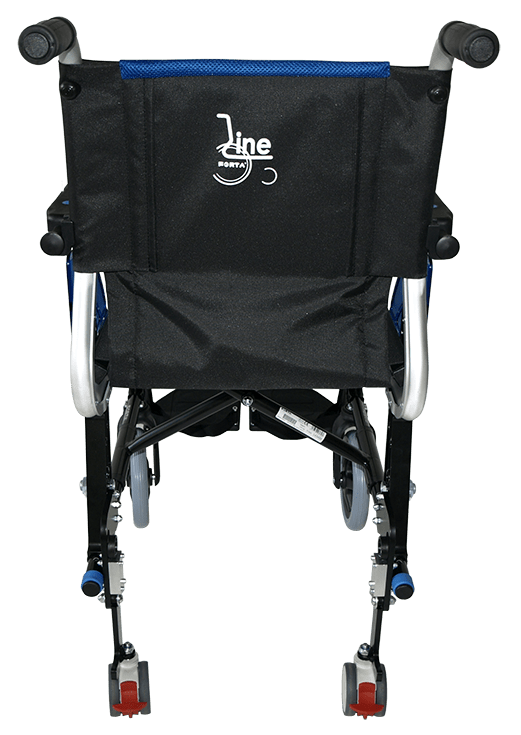 Forta Line Giro
The Forta Line Giro wheelchair incorporates a new 75mm rear small wheel system. This system can be easily removed. We can remove the large self-propelled wheels (quick extraction system included) and thus facilitate the passage through doors or narrow places.
The deployment of the small wheels of this chair is extremely simple and fast. The passenger will simply have to pull a ring that is just above each wheel, making them fall, and then, by a simple push, placing the foot in front of the wheel, fix them. Once the wheels are fixed, the large ones can be removed if desired, to lose width, although it is not necessary to be able to turn and maneuver perfectly. Once the maneuver is finished, the large wheels have to be placed again and the same ring can be pulled back again, helping with the foot, fold them.
Like the Line-Duo, the Giro model is based on the design and structure of the Line wheelchair and is available with all its accessories and options. Likewise, it has armrests and removable footrests, the latter being foldable and adjustable in height, all without using any tools.
The Forta Line Giro is a wheelchair made of aluminum without using any welding, available in 5 different colors, includes removable axles (also called quickrelease) on the large rear wheels and has a modern and renovated design. Like all Forta products, this wheelchair is manufactured entirely in Albacete (Spain).
Forta Line Giro - Features
- Includes small 75 mm rear wheels that can be incorporated momentarily to cross narrow passages.
- This system allows the chair to rotate on its own axis.
- Perfect for elevators, bathrooms, narrow doors, etc.
- The wheels remain hidden until they are necessary, when, by a simple movement, the passenger can easily place and remove the large ones.
- Patented model.
- Ergonomic design of the backrest tubes that allow the user to use the entire depth of the seat by adding lumbar support.
- Includes quickrelease (removable shaft).
- The small wheels have a standard brake
- Folding
- Sizes available: 38, 41, 45, 48, 52 and 56.
- Made of aluminum without any welding.
- Available in five colors of seat, backrest and armrests.
- Highly resistant and comfortable.
- Weight: 15 kg.
- Resistance of 140 kg.
- Removable and adjustable height footrests without tools.
- Removable armrests.
- Registered design.
Registered LINE Design
Forta Line Giro - Product details
Height: 91.5 cm
Length: 107 cm
Seat Height: 51 cm
Seat Depth: 41 cm
Front Wheels: 200 mm
Length without footrest: 77 cm
Weight: 15 kg
Max. user weight: 140 kg
Seat width: size 2
Total width: (R600) Size + 18 cm
Total width: (Small wheel) Size + 10 cm
Forta Line Giro - Accessories
Companion brake (1), viscoelastic cushion (2), roll over (3), lift footrest (4), split backrest (5).
You can see more detailed information about the Forta Line Giro wheelchair watching the following VIDEO
478,08€
(10% VAT included)
REMEMBER: If you have a disability certificate greater than 33% degree, you are entitled to a VAT reduction on this product.
Free Shipping in Spain (peninsula).
Our physical store is located at Calle Cavanilles 7, 28007 Madrid.
Secure SSL Purchase (+info)
Returns: 15 days.
Need any assistance? Contact us +34 915701682
Financing:

Cetelem
From 3 to 60 months
Calculate your fee
Total width with self-propelled wheel: size + 18cm.
Total width on small traffic wheels: size + 10cm.
Total length 107cm.
Total length without footrest 77cm.
Total height 91,5cm.
Seat-floor height 51cm.
Seat depth 41cm.
200mm front wheels
60cm turning radius.
Weight 15Kg
Maximum user weight 140Kg.
Color: Blue, pistachio, orange, gray and mauve
*Data provided by the manufacturer
Warranty: 2 years
10% VAT and transportation included
Free shipping for orders shipped to Peninsular Spain. Please contact us for orders shipped to the Spanish islands and to other countries.
Reduced VAT rate (4%) will be applied to customer provided 33% disability certificate or higher degree)