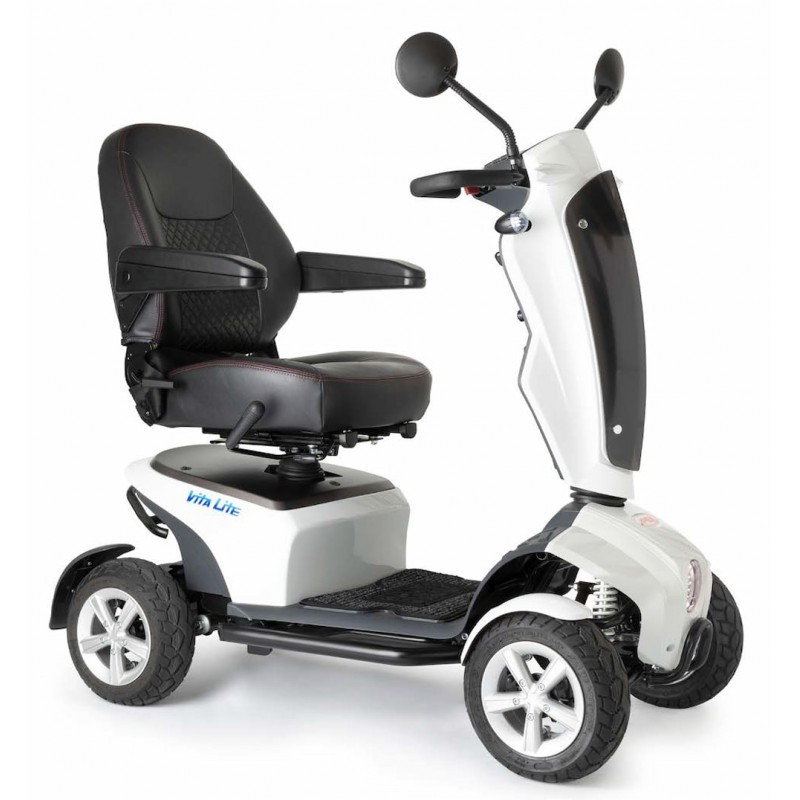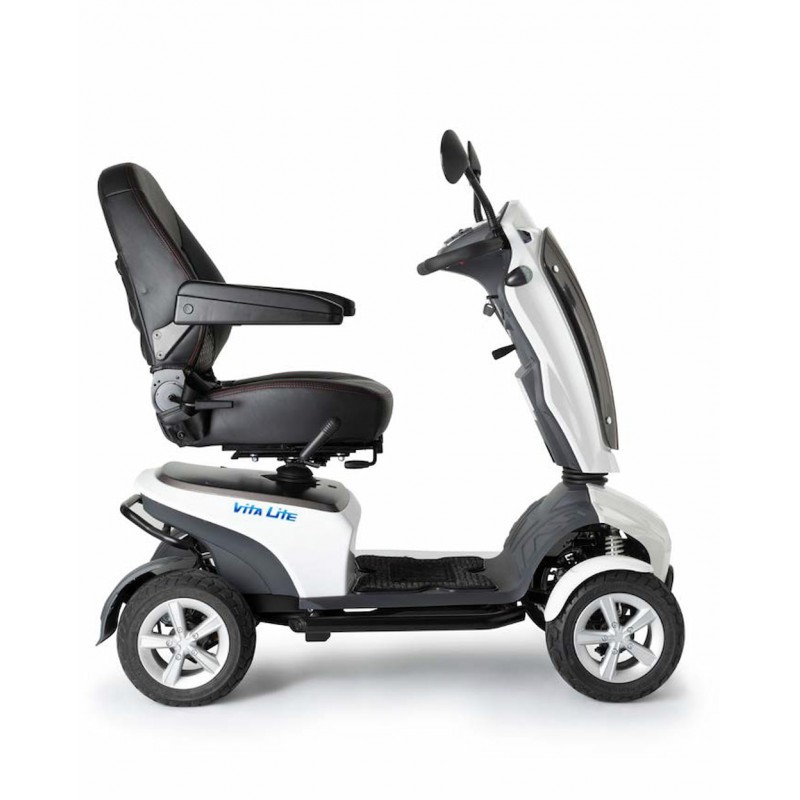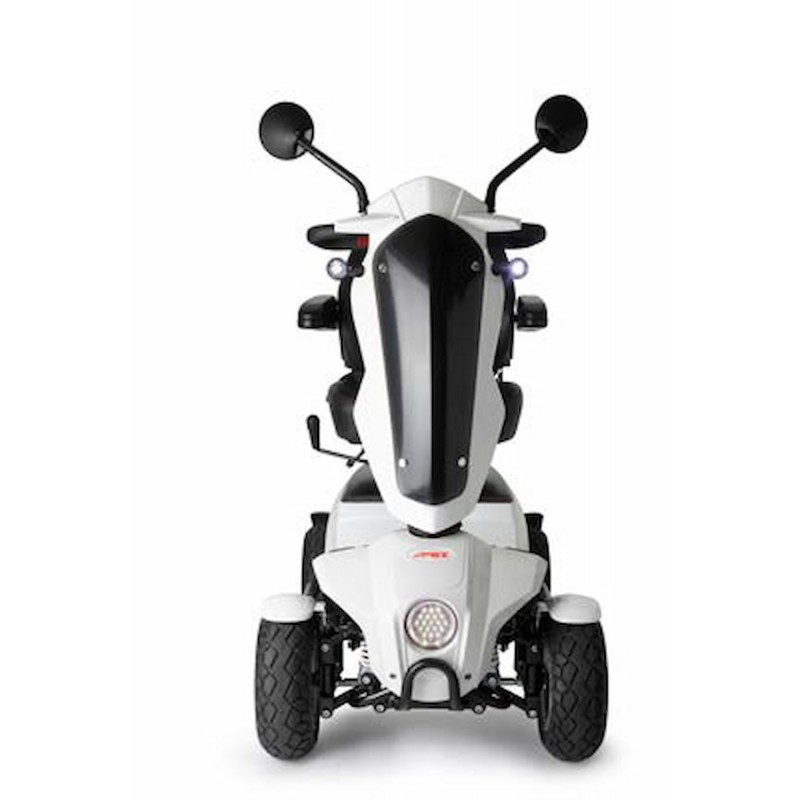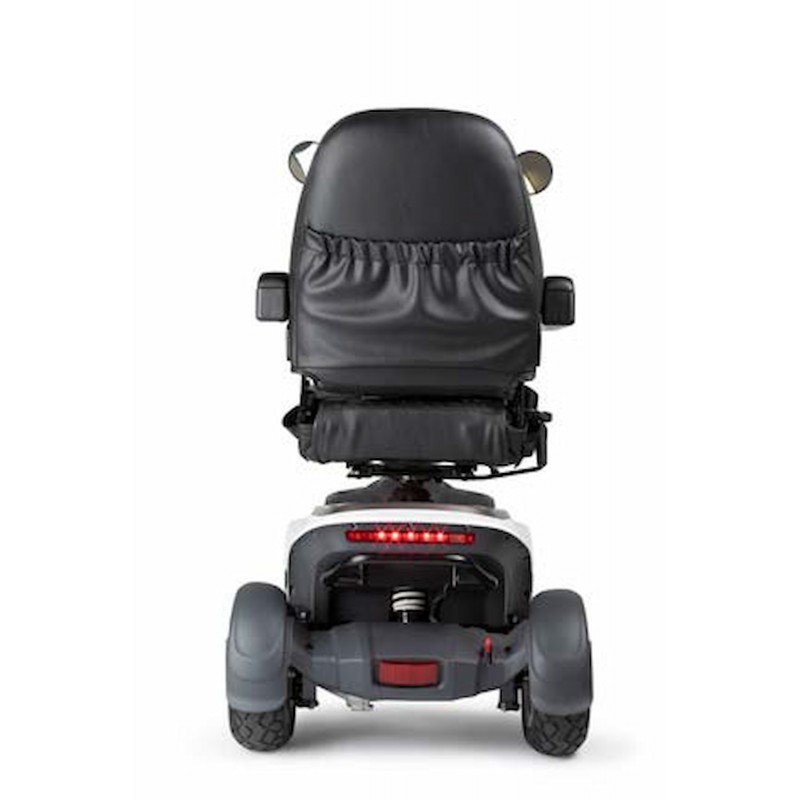 Apex i-Vita Lite
The new Apex i-Vita Lite mobility scooter has all the design and benefits of the i-Vita in a more compact model.
Main features
Design: Exclusive design and multifunctional liquid crystal display.
Complete: It offers all kinds of features; rear-view mirrors, front and rear LED lights for greater visibility and a practical front basket to carry personal items.
Comfortable: High-end seat with breathable fabric. Its padded, adjustable and folding armrests offer great adaptability to the user.
Reliable: Its double wishbone front suspension with stabilizer bar provides great driving reliability. It has low-profile pneumatic wheels and 5-spoke alloy wheels.
The Apex i-Vita Lite is an electric scooter designed for people with reduced mobility, it is perfect to become our ideal companion on a daily basis. It comes standard with a front basket to be able to store and carry personal items without giving them up. The seat of the I-Vita Lite electric scooter is high-end with breathable, rotating fabric, of great comfort and comfort. The armrests are padded, adjustable and folding to facilitate transfers or entrances and exits of the scooter.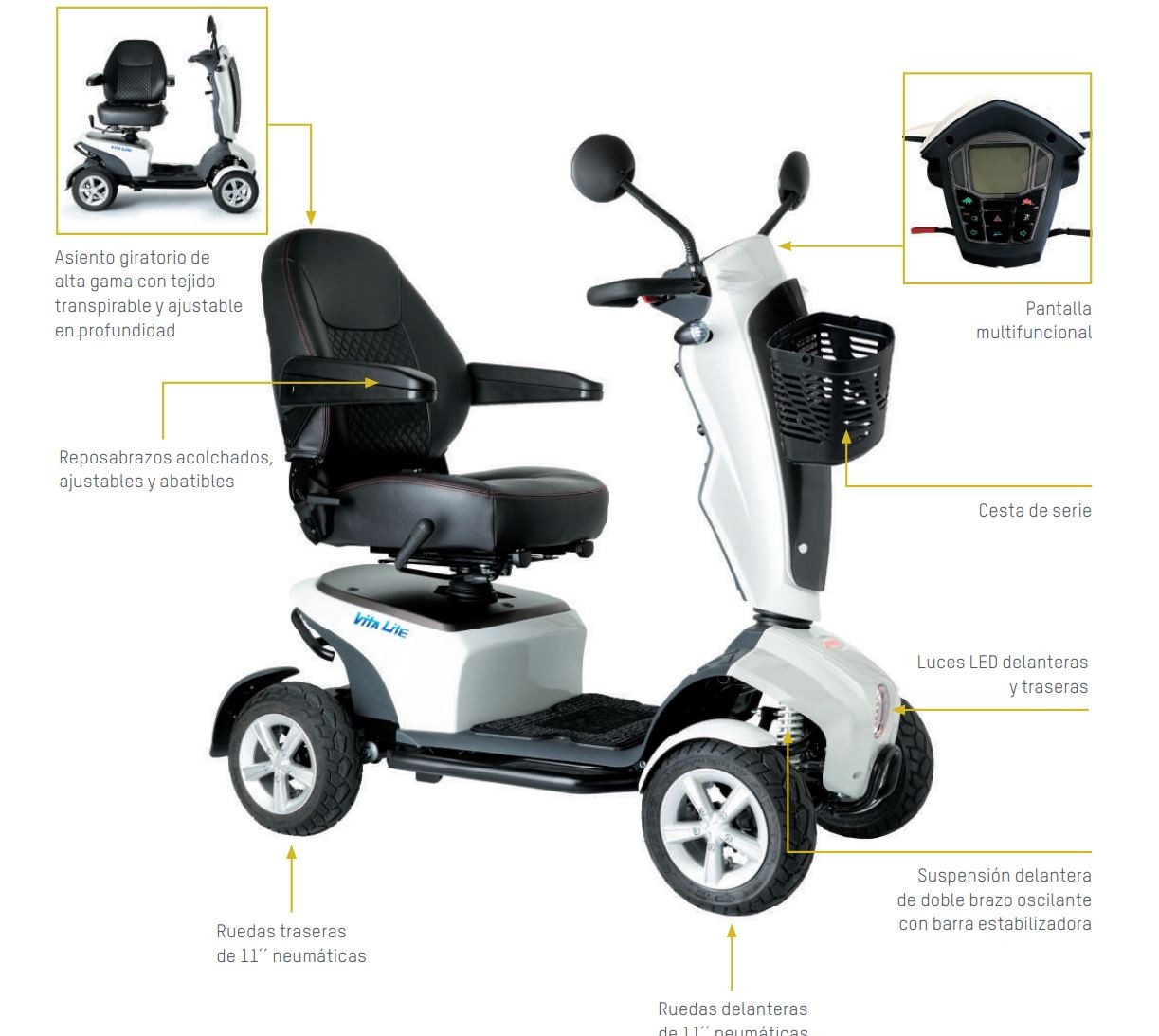 Technical characteristics
The Apex i-Vita Lite is a 4-wheel electric mobility scooter with dimensions of 119.5 cm long, 62 cm wide and 120 cm high.
The maximum speed that can be reached is 10 km/h, with a maximum slope of 6º.
The motor power is 450W and its batteries are 2 units of 36 Ah, 12V.
This scooter has a turning radius of 130 cm so that we can move freely both indoors and outdoors.
The maximum slope is 6º.
The seat is rotatable.
The maximum user weight supported is up to 135 Kg.
The weight with batteries is 102 Kg and without batteries is 79 Kg.
Measurements
This scooter is presented in a packaging with dimensions of 147 cm long, 64 cm wide and 120 cm high. Total weight of the box 107 Kg.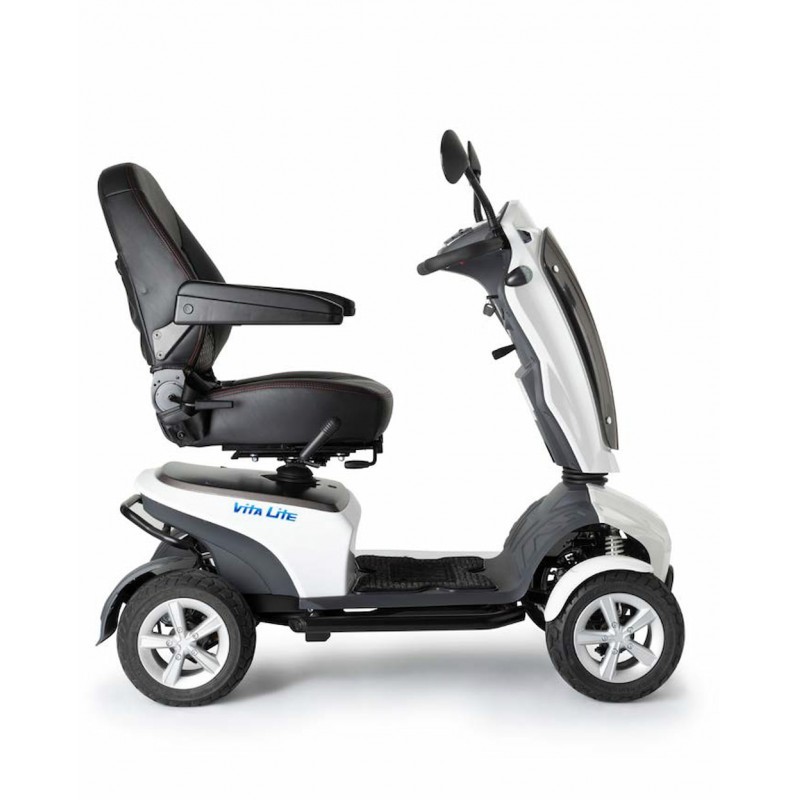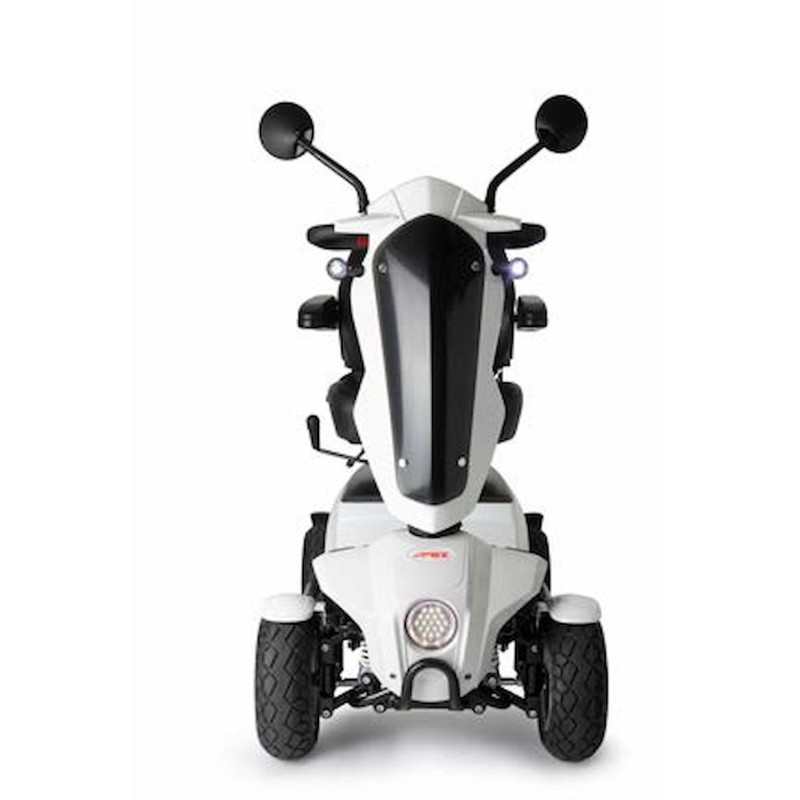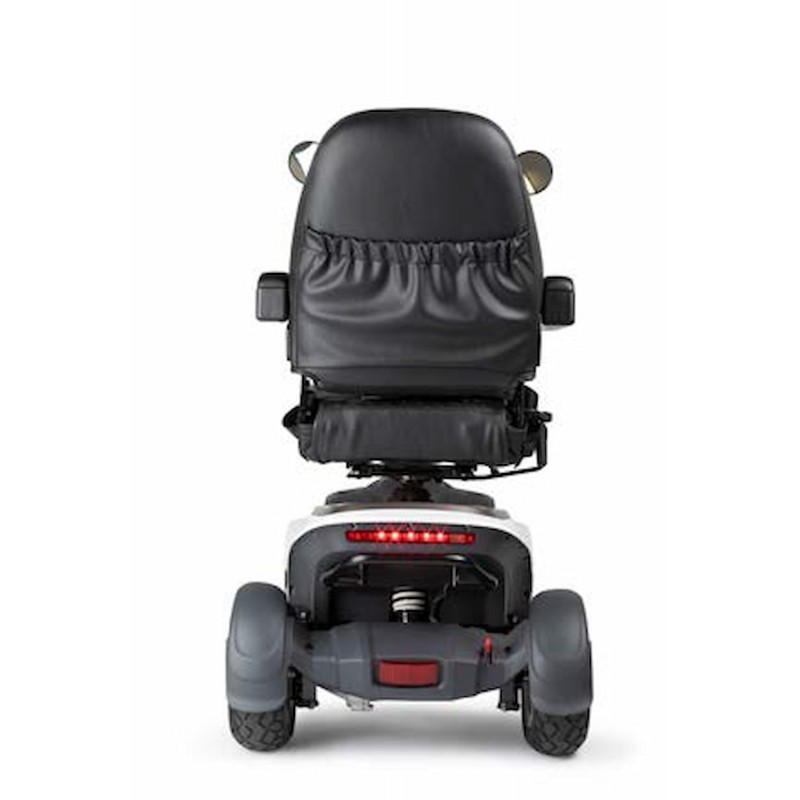 Accessories
This scooter has the pole holder on the left side as an accessory.
The Apex i-Vita Lite comes equipped with all the benefits and conveniences of a high-powered scooter, making it the perfect everyday companion for the user.
3.790,93€
(21% VAT included)
REMEMBER: If you have a disability certificate greater than 33% degree, you are entitled to a VAT reduction on this product.
Free Shipping in Spain (peninsula).
Our physical store is located at Calle Cavanilles 7, 28007 Madrid.
Secure SSL Purchase (+info)
Returns: 15 days.
Need any assistance? Contact us +34 915701682
Financing:

Cetelem
From 3 to 60 months
Calculate your fee
Manufacturer: Apex Medical
Code: 0401112
Total Width: 62cm
Total Length: 119.5 cm
Motor Power: 450W
Maximum Speed: 10Km/H
Number of Batteries: 2
Maximum Slope: 6º
Maximum User Weight (Kg): 135
Weight without batteries: 79 kg
Total Weight: 102 Kg
Rear Wheels: 11"
Battery: 2 X 36 Ah 12V (gel)
External 5A charger
Turning Radius: 130cm
Front Wheels: 11"
Rear Wheels: 11"
Anti-tip wheels: No
Total height: 120 cm
Suspension: Yes
Color: White
* Data provided by the manufacturer.
Warranty: 2 years and 6 month on the batteries
21% VAT and transportation included
Free shipping for orders shipped to Peninsular Spain. Please contact us for orders shipped to the Spanish islands and to other countries.
Reduced VAT rate (4%) will be applied to customer provided 33% disability certificate (or higher degree)