VIANA electric adjustable bed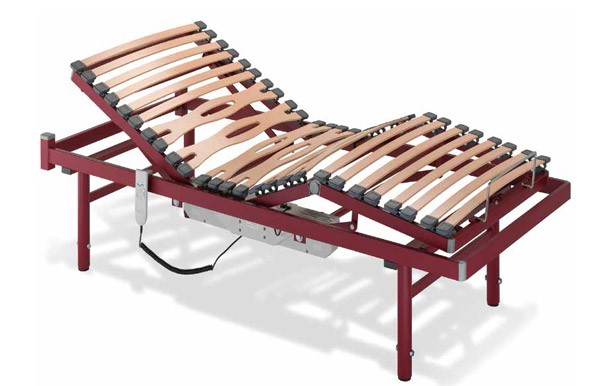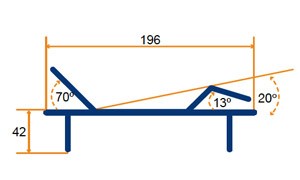 VIANA electric adjustable bed
VIANA electric adjustable bed has a bed with 4 planes and 3 joints. At the push of a button, we will achieve exceptional comfort. Especially suitable for people who spend a lot of time in bed due to disability or illness.
Simple handling. Beneficial bed for those who need postural changes. This articulated bed belongs to the Tecnimoem quality manufacturer.
Some people have to spend a long time in an adjustable bed due to convalescence, illness or disability. The direct consequence of this is the development of pressure ulcers and to avoid them, the caregiver must make frequent postural changes.
Adjustable beds like the Viana articulate producing these postural changes, distributing the pressure of the body and providing optimal comfort. That is why they are also called a hospital bed, although care can be carried out comfortably from home.
The Viana electric articulated bed has an articulated beech wood bed base, vaporized with a melamine paper covering that provides extra protection and an external frame structure in steel tube. The slats of the bed base are very flexible thanks to the fact that they are attached to the frame by means of rubber blocks. They measure 38x8mm and 100x8mm. The structure of this electric bed has rounded corners protected with end caps and is coated in epoxy-polyester paint. The mattress is held by a metal arch on the feet and 4 plastic pieces (2 on each side of the bed)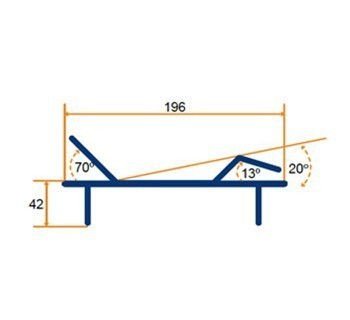 Features
+ Bed with 4 planes and 3 joints. Steamed beech slats covered with 38x8mm and 100x8mm melamine paper. mechanized.
+ Clamping blocks of flexible rubber slats.
+ Exterior frame structure in 50x20mm steel tube, interior 40x20mm.
+ Rounded corners with tips.
+ Coating: epoxy-polyester paint
+ 30mm anti-entrapment safety distance. between joints and outer frame.
+ Supports for incorporator and dripper holder.
+ Legs: Different options (see accessories).
+ Electric drive with 4,000 + 4000N compact motor. It has a battery to return all positions to 0 in case of power failure.
+ Control with cable, activates all movements.
+ Maximum user support 150 kg
+ Mattress holder: metal arch on the feet and 4 plastic pieces (2 on each side).
+ External dimensions of the bed: S / frame.
+ Headboard and footboard: Optional (see accessories)
+ Handrails: Optional. (see accessories)
+ Zipper on feet: Optional (see accessories)
495,00€
(21% VAT included)
Free Shipping in Spain (peninsula).
Our physical store is located at Calle Cavanilles 7, 28007 Madrid.
Secure SSL Purchase (+info)
Returns: 15 days.
Need any assistance? Contact us +34 915701682
Financing:

Cetelem
From 3 to 60 months
Calculate your fee
*Data provided by the manufacturer.
Warranty: 2 years
21% VAT and transportation included
Free shipping for orders shipped to peninsular Spain. Please contact us for orders shipped to the Spanish islands and to other countries.