Kineris 1 valve air cell anti-decubitus cushion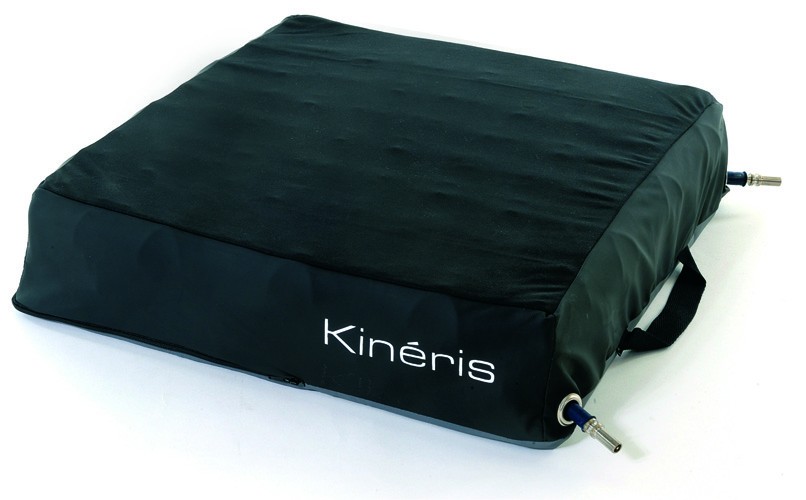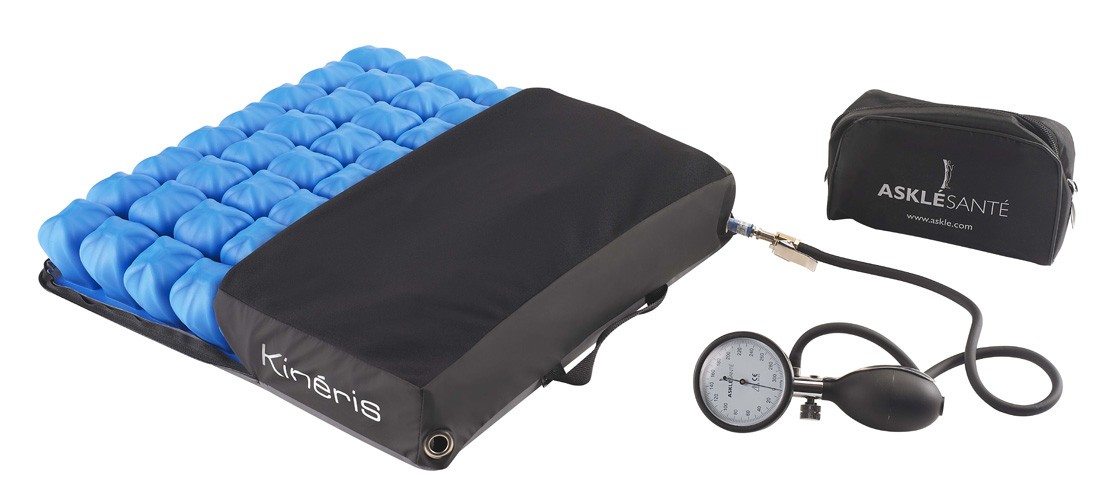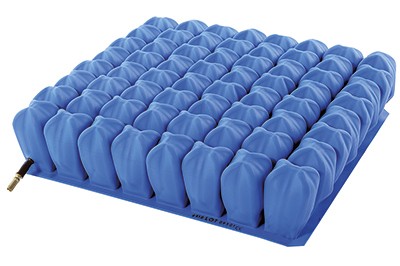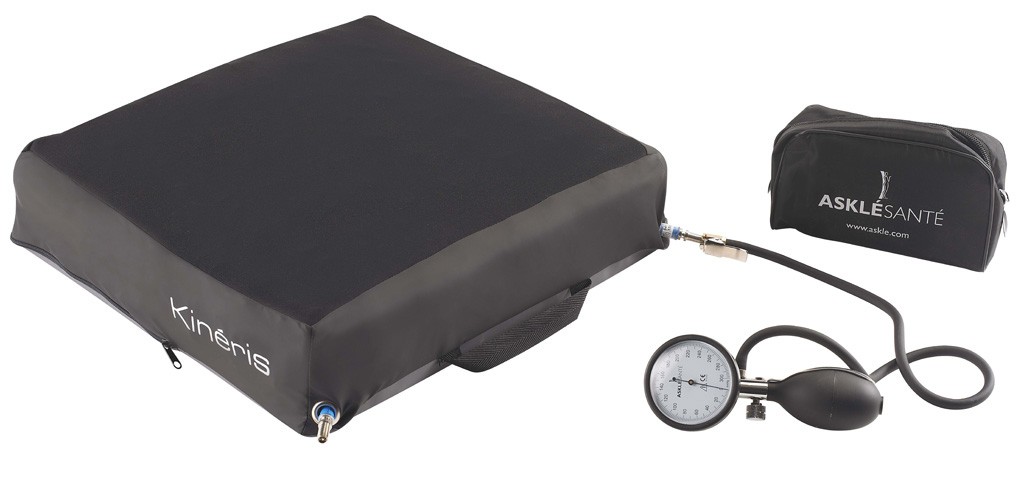 Kineris 1 valve air cell anti-decubitus cushion
Kineris is an anti-decubitus air cushion for those at high or very high risk of developing pressure ulcers. Available in different sizes and in two heights: 7 and 10cm.
Air cushion features
The Kineris anti-decubitus cushion is made of neoprene, an anti-allergic material, resistant and very easy to clean.
It is made up of cells that are inflated to the desired pressure. The cells offer a perfect immersion of the body and increase the contact surface, thus reducing pressures to a minimum. In addition, the air circulates between the cells, which favors a correct ventilation of the skin. It is recommended for use in the wheelchair because it is ideal for people who spend a lot of time sitting. The air cushion is square in shape and is available in various sizes. At most, it supports a weight of 150kg at its greatest measure.
Cleaning this wheelchair cushion is very easy because it is compatible with mild detergent-disinfectant products. It can even be used under the shower. Of course, always make sure that the valve is properly closed to prevent water from entering the interior of the cushion.

Anti-decubitus properties
The Kineris cushion is recommended for users who have a high or very high risk of developing pressure ulcers. It also helps the treatment of those that are already for a faster healing. Specifically, this air cushion is perfect for wheelchairs to prevent and treat bedsores typical of sitting. With the Kineris air cushion you will get relief in the area of ​​the coccyx, sacrum, hamstring, etc.
The materials with which the cushion is made contribute to correct thermoregulation, so that the skin remains in good condition.
Accuracy: exact adjustment to the patient's morphology thanks to the pressure gauge *
Characteristics
Functionality: minimization of the pressure exerted on the skin and tissues thanks to the adjustable pneumatic principle.
Efficacy: limitation of shear forces through adaptability and mobility of cells.
Comfort: monitoring of movements through the air that circulates through a calibrated network interconnecting the cells.
Mono or two compartment (s) depending on your need.
Inflation cylinder with integrated pressure gauge (assistance during inflation).
Removable integral cover.
Patients up to 150 kg.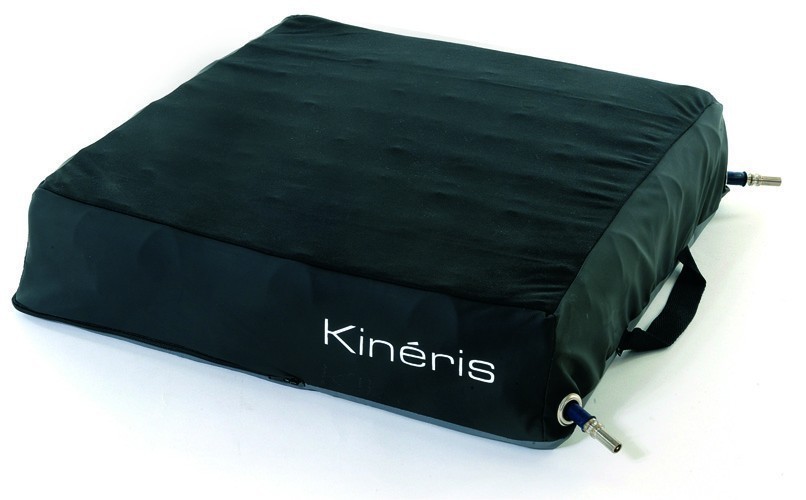 Cushion accessories
Along with the cushion you will receive:
-An inflation pump that will allow you to fill the air cushion to the desired pressure. The manometer has an integrated pressure indicator that allows us to be precise in its inflation. If you have doubts about what pressure is indicated for each weight, consult a simple table that is included.
-A removable cover, washable in the washing machine (90º maximum). Its fabric is impermeable to liquids, but breathable to sweat, which contributes to an optimal state of the skin. Its fabric does not form wrinkles. Resists abrasion, light and mold.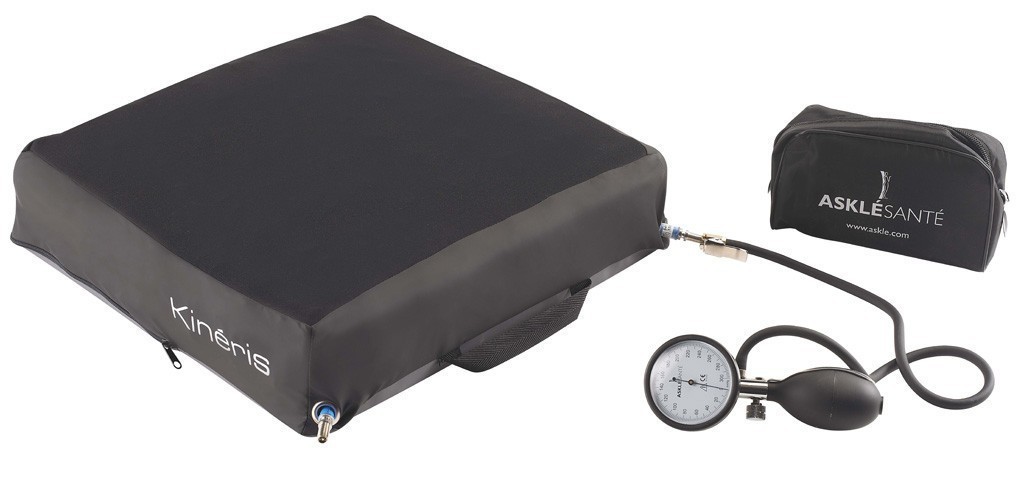 550,00€
(10% VAT included)
Free Shipping in Spain (peninsula).
Our physical store is located at Calle Cavanilles 7, 28007 Madrid.
Secure SSL Purchase (+info)
Returns: 15 days.
Need any assistance? Contact us +34 915701682
Financing:

Cetelem
From 3 to 60 months
Calculate your fee
New polyester / PU + elastane cover:
 - breathable
- elastic
 - Abrasion resistant
- Resistant to mold and light
- Washable at 90º
 - Anti-wrinkle
 - Hypoallergenic (Oeko-Tex® Class 2)
 - Fire retardant treatment
 - Bottom in non-slip fabric
* Data provided by the manufacturer.
Warranty: 2 years
10% VAT and transport included
Free shipping for orders sent to mainland Spain. Contact us for orders shipped to the Spanish islands and other countries.