Wheelchair for shower and toilet TS AQUA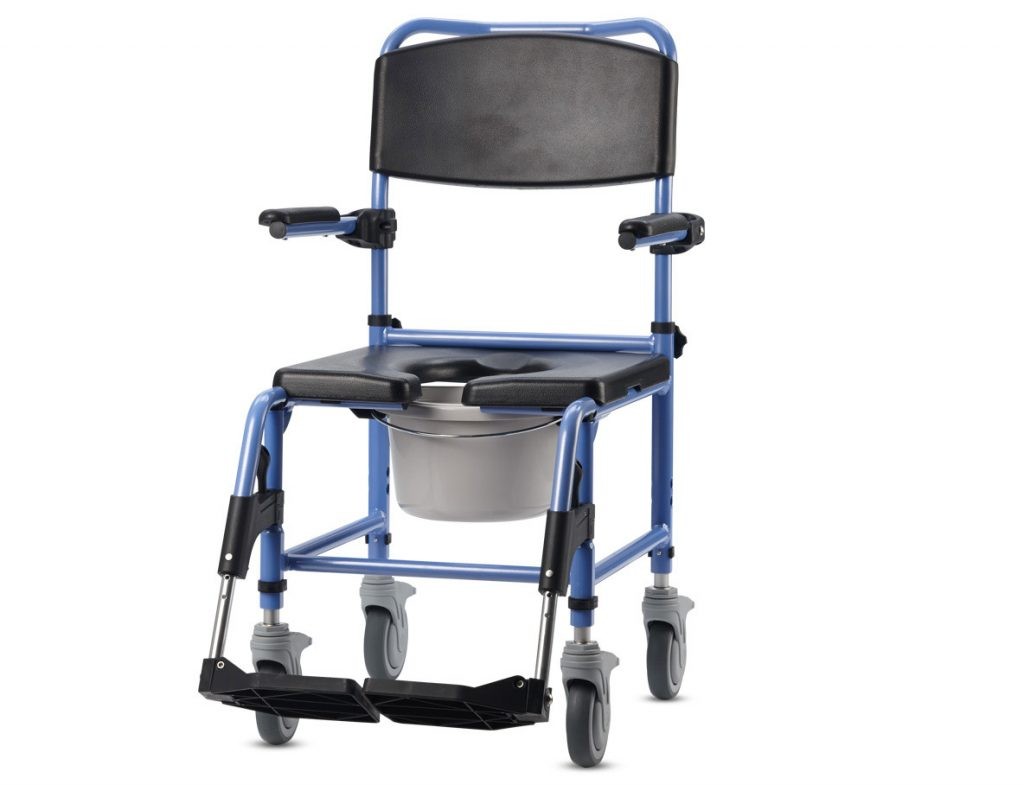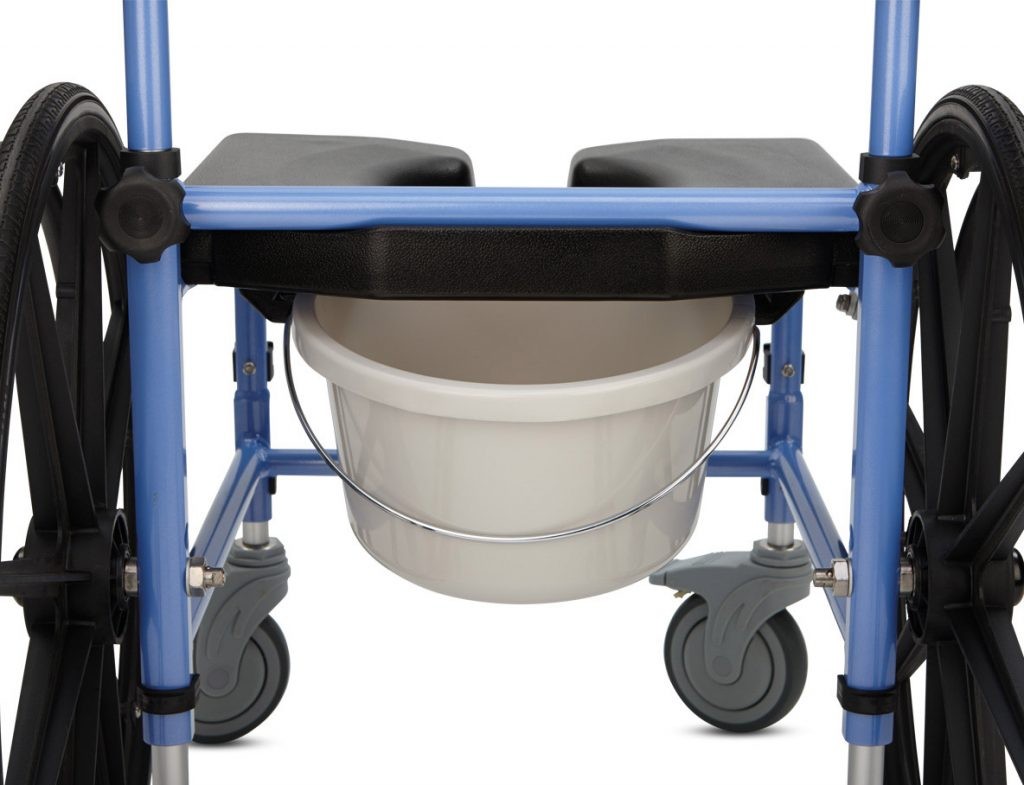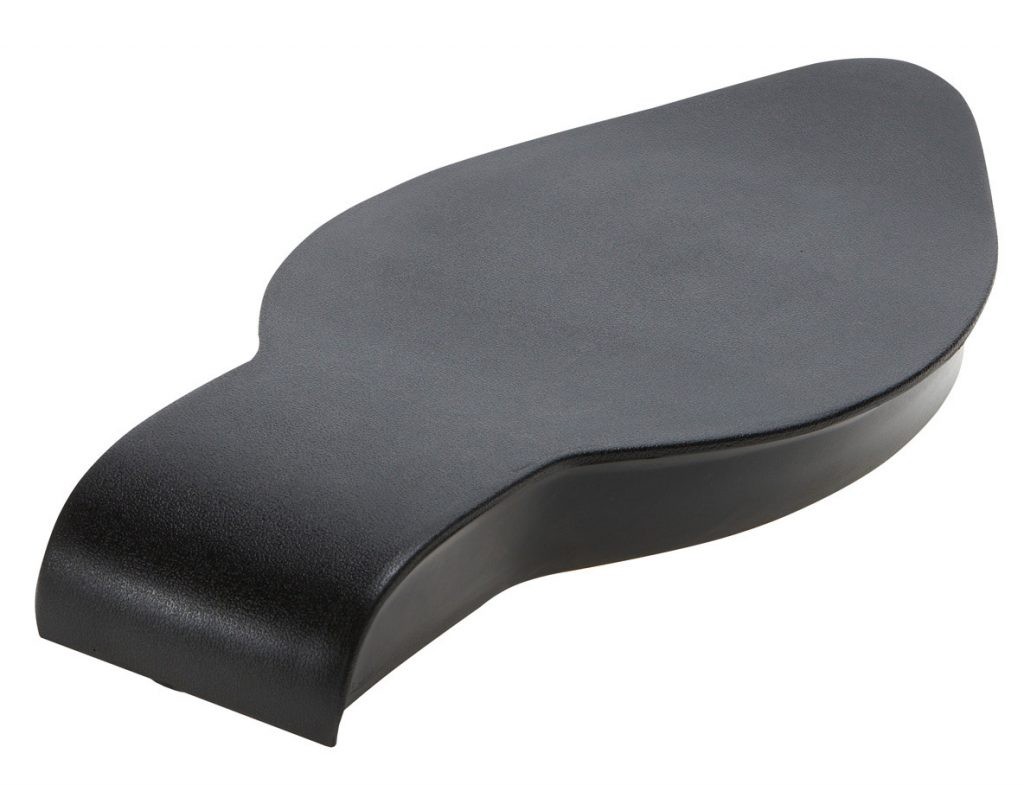 TS AQUA Shower and WC Chair
TS AQUA Shower and WC Chair. Bathroom wheelchair with self-propelled toilet or transfer wheels.
With the purchase of the Bischoff & Bischoff bath and shower wheelchair from the TS-Aqua series, you get a premium German product that, thanks to its variability, sets new standards. Maximum user weight 120 kg.
Features
• The bath and shower wheelchair must only be used indoors and with the help of a companion.
• It should only be pushed on flat and horizontal floors.
• When stopped, always engage both wheel brakes and the parking brake.
 • Prevent the user from leaning excessively from the sides. The chair can tip over. • The bath and shower wheelchair must be secured against unauthorized use (especially by children). The use of a wheelchair for bathing and showering is necessary when it is not possible to use or access a toilet due to disability.
Standard equipment
5" rear wheel push wheelchair with brake
Self-propelled chair with rear wheels 24" with brake
Rotatable armrest
Swivel footrest paddle
Incl. Toilet bowl with lid
The bath and shower wheelchair is designed exclusively to increase mobility or for the transport of people unable to walk, for which its use is indicated due to the above-mentioned indications. It is designed for indoor spaces in order to compensate for the mobility limitations of the affected person during body hygiene and defecation. The chair can be used by the affected person with the help of two rear drive wheels and / or by another person with the help of 4 small steering wheels. The maximum load capacity of the user must not be exceeded 120 kg
316,00€
(10% VAT included)
Free Shipping in Spain (peninsula).
Our physical store is located at Calle Cavanilles 7, 28007 Madrid.
Secure SSL Purchase (+info)
Returns: 15 days.
Need any assistance? Contact us +34 915701682
Financing:

Cetelem
From 3 to 60 months
Calculate your fee
Seat width: 46 cm. (effective 39 cm)
Seat depth: 43 cm.
Seat height: 52 cm.
Hygienic interior opening: 26 x 18 cm. oval
Total width: 56 cm. (Ver. 1) - 63 cm. (Ver. 2).
Total height: 99 - 104 cm.
Total length: 92.5 cm. (Ver. 1) - 110 cm. (Ver. 2)
Total weight: 14.4 kg. (Ver. 1) - 19.2 kg. (Ver. 2)
Load capacity: 120 kg.
Frame Color: Blue
* Data provided by the manufacturer.
Warranty: 2 years
10% VAT and transport included
Free shipping for orders sent to mainland Spain. Contact us for orders shipped to the Spanish islands and other countries.